Dry shampoo can be a life-changing hair product if you use it correctly. Dry shampoo is a beauty staple for many reasons. It quickly helps soak up excess oil in seconds, adds instant volume to day-old hair, and extends the life of your blowout. As popular as dry shampoo is, it is not always the most straightforward product to apply. Dry shampoo has evolved from its original aerosol version to tinted versions, powders, sprays, pastes, and even foams. Also, like regular shampoo, different types of dry shampoo tend to work more effectively on different hair types and textures. Read on to find out how to choose your new favorite dry shampoo!
How to Choose the Right Dry Shampoo
Dry shampoo comes in many variations, including aerosol, spray, powder, paste, and foam, and the specific type you use does make a difference. If you have fine hair and use powder, it might feel heavy and weigh down your hair. We recommend powder for thicker and oily hair because it soaks up the oil and won't weigh your hair down. On the other hand, if you have fine hair, you might benefit most from a spray or aerosol version because their hair tends to dry faster and add more volume. You'd also be wise to read all the details to get the right product because, similar to regular shampoo and conditioner, and different formulas work better for different hair types. Typically, people with curlier hair need more moisture, while people with oily scalp don't. Dry shampoos cater to specific hair types; some dry shampoos have other properties like volumizing and texturizing. Just as you would for any different skin or hair care product, read the product description page to ensure that a formula's features pertain to your needs.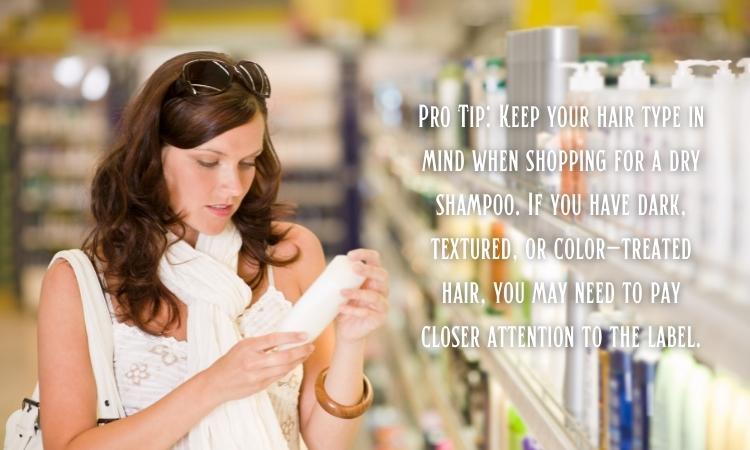 How to Properly Apply Dry Shampoo in 3 Easy Steps
After you've picked out your dry shampoo, you'll need to know how to apply it, so you do not end up with white roots or stiff hair strands. Try these steps below for the best results.
1. Prep Your Scalp
Before you even think about spraying anything in your hair, shake the bottle; this will ensure the product's formula is evenly distributed inside the bottle, making for even distribution on your scalp. Next, grab a comb because to apply dry shampoo properly, you'll want to part your hair into a few small sections. So first, part through the oiliest section of your hair and work in small areas moving horizontally up or down your hair strand, depending on where you start (keep in mind that you can layer on as needed.)
2. Apply the Dry Shampoo
Shake the bottle of dry shampoo first! Then aim the dry shampoo directly at your roots and hold the bottle about 12 inches away from your scalp. Keep a reasonable distance between your hair and the aerosol bottle because it may leave a residue that's hard to remove. When you apply, don't go overboard; only use the dry shampoo in oily areas, not all over the scalp. The amount of product needed depends on how oily your scalp is and your hair type. The thicker your hair, the more dry shampoo product may be required to saturate and soak up hair oil thoroughly. For finer hair, less product is needed.
3. Massage Your Scalp
One of the best benefits of dry shampoo is that it works quickly, with immediate results. However, to produce the best possible results, you should allow a bit of extra time before you have to run out the door.
Let the dry shampoo sit on your scalp for a few minutes to work its magic correctly. After you've let it sit, massage it into your scalp with your hands to activate the ingredients that soak up the oil. If you notice too much residue after the massage, run a brush through your hair from root to end to disperse any buildup.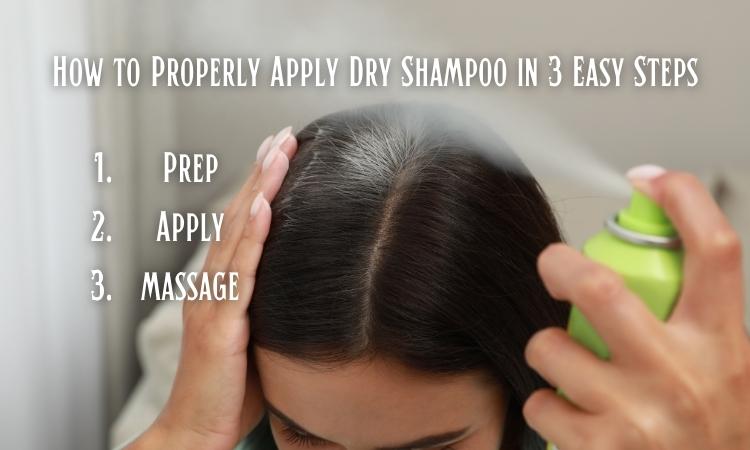 How Long Does Dry Shampoo Last?
Dry shampoo does not replace actual shampoo, nor is it meant to. However, relying on dry shampoo too often can negatively impact the health of your scalp and hair. Dry shampoo builds up on the scalps, clogs hair follicles, traps oil, and prevents average skin cell turnover, leading to the overgrowth of bacteria and yeast that live healthily on the scalp causing folliculitis and dandruff. Folliculitis (inflammation of hair follicles) can lead to red pimples and pustules like acne on the scalp. Since everyone's hair and scalp needs differ, we recommend shampooing no less than twice a week. Therefore, you should only use the dry shampoo once to twice a week and rely on washing your hair more than that to maintain proper hair health.
Is Dry Shampoo Safe for Sensitive Skin?
When used in moderation, dry shampoo is okay to use. However, dry shampoo can change the scalp microbiome over time. If used daily, it can create problems including dryness, flaking, inflamed scalp, and aggravate other conditions, like Demodex or seborrheic dermatitis if they are already present. Also, because dry shampoo doesn't clean the scalp, continued use can clog your hair follicles and cause folliculitis, causing itchy and tender skin. Some people may also have sensitivities to chemicals or ingredients in dry shampoo, so they should not use it regularly.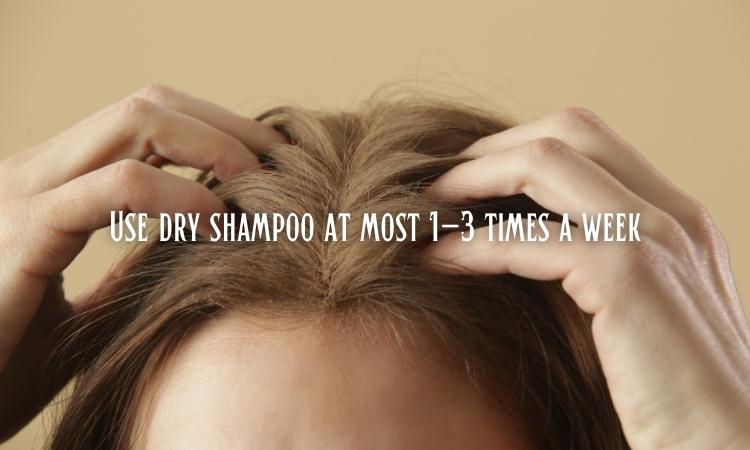 What are the Best Brands of Dry Shampoo?
We are a Dry Shampoo-friendly office at Skin Beauty and have hand selected our favorite Dry Shampoo bottles on the market; here is what we found.
For a Dry Scalp: Amika Phantom Hydrating Dry Shampoo Foam gives unwashed hair a cleaner look and feel. It absorbs dirt and oil and hydrates the scalp. Rice, tapioca, and corn starch minimize dirt and oil for fresh-looking hair.
For an Oily Scalp: Style Edit Invisible Dry Shampoo is a convenient, instant hair refresher spray that cleans and absorbs excess oil while simultaneously adding body to hair, leaving hair fresh and looking clean. With the power of unique micro-powder, this dry shampoo won't leave a powdery residue. Instantly clean your hair without water and help save your time between shampooing, styling, and hair coloring.
Light Tones: Moroccanoil Dry Shampoo Light Tones is excellent for light-colored hair; it helps balance brassiness and brings out the best color without leaving a dull, chalky residue.
Dark Tones: Moroccanoil Dry Shampoo Dark Tones is excellent for dark hair tone. This UV-protecting, argan oil-infused dry shampoo leaves your hair with the signature Moroccanoil scent.
Textured: Amika Perk Up Dry Shampoo freshens unwashed hair by reducing the appearance of oily hair. Rich starch absorbs dirt and oil while adding volume and texture to hair. This dry cleanser leaves hair looking refreshed without leaving any white residue.
Color Treated: Living Proof Dry Shampoo eliminates oil, sweat, and odor and leaves hair feeling clean and refreshed. It's ideal for most hair types and is silicone-free, paraben-free, phthalate-free, and cruelty-free. Plus, it's color safe and safe for chemically treated hair.
What Happens if You Use Too Much Dry Shampoo?
Using dry shampoo too much or leaving it in your hair for too long without washing the product out can lead to a buildup of the product on your scalp. An accumulation of styling products can make your scalp itch. In addition, the buildup may lead to folliculitis. As a best practice, you should only use dry shampoo 1-3 times a week at most and always follow up with cleansing or pH balancing shampoo after.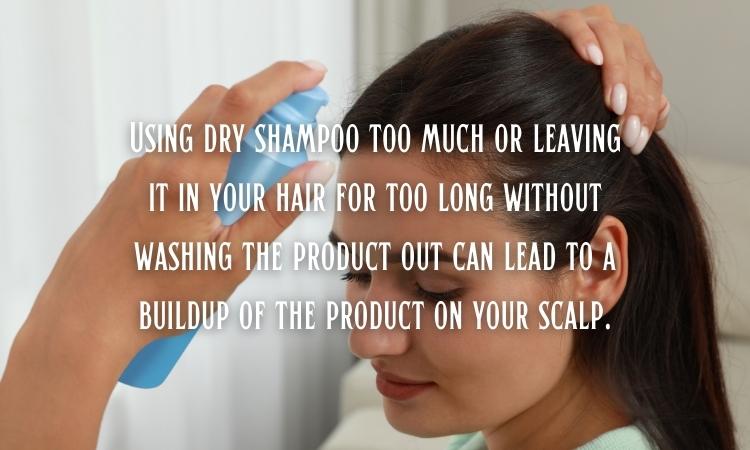 8 Mistakes You Don't Want to Make with Dry Shampoo
Spraying it too close to your scalp.
Use more than you need.
Only using it on dirty hair.
Rushing through it.
Not brushing or blow-drying after.
Only apply dry shampoo during the day.
Ignoring your ends.
Forgetting to shake the bottle before application.
How is Dry Shampoo Made?
Dry shampoo is often made from corn starch or rice starch. When you start reading ingredient labels, it's hard to stop. Consciousness is critical; pouring over the long list of ingredients can be slightly addicting. But, of course, it's all a personal choice. However, we made a list of ingredients commonly used in dry shampoo for you to check out and decide if you care to eliminate them from your hair care products or not.
1. Talc
Talc could be hiding in your makeup, and here it is, in standard dry shampoo. Talc is used in dry shampoo formulas for its absorbent abilities, and made of magnesium, silicon, and oxygen, and is at risk of containing asbestos fibers.
2. Liquid Petroleum Gas
This aerosol ingredient pushes your dry shampoo into your roots. Even though there can be spray bottles or loose powder, most dry shampoos are in an aerosol bottle. It's already well known that this odorless, colorless gas harms our ozone layer, but it is tough to avoid in a product with a spray pump.
3. Phenoxyethanol
Though this chemical can be found naturally in green tea, we're talking about the synthetically manufactured version. Phenoxyethanol's purpose is to help fight bacteria, and the EU and Japan have approved the use for up to 1%, but the jury is still looking at Phenoxyethanol's long-term effects.
4. Cetrimonium Chloride
If you are looking to remove hair static, cetrimonium chloride is your dependable dry shampoo ingredient. Unfortunately, the AFH Library has classified this dry shampoo ingredient as toxic, irritating, and allergenic, not to mention lethal if orally ingested. Since the US is playing catch up to the world in cosmetics regulations, it is essential to know that the EU Cosmetics Directive only allows a maximum concentration of .1% to be used.
5. Alcohol
Alcohol can be very drying to delicate strands of hair and your head, absorbing natural oils needed for a healthy scalp. Avoid dry shampoos containing alcohol because they can lead to long-term hair and scalp damage.
6. Siloxane and Silicones
Silicones and siloxanes are used in many everyday beauty products. They are included for their ability to not break down during application and to help product formulas dry faster. There has been a slight shift away from this questionable ingredient after scientific studies, and Canada and California have taken a closer look. However, overall, silicones are still very common in personal care products.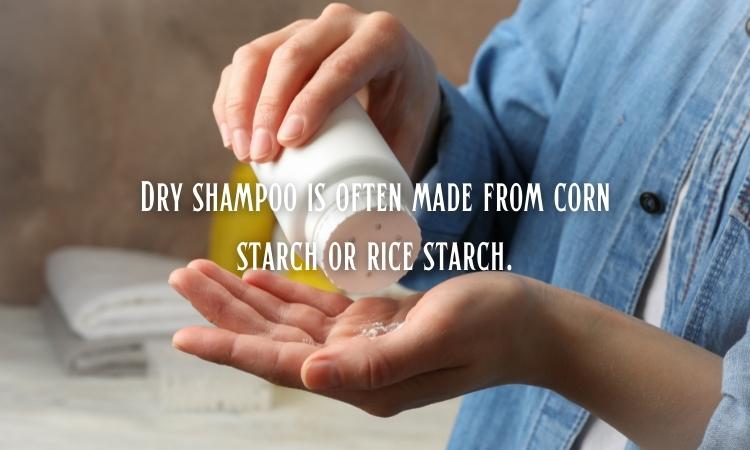 Can Dry Shampoo Cause Acne?
Yes, if you aren't cleansing and clarifying your scalp regularly, there will be a heavy buildup of powder, oil, and dead skin cells. These can lead to clogged pores, breakouts, and irritation on your scalp. Finding a silicone brush to massage your scalp within the shower is best if you struggle with acne and breakouts.
*Skin Beauty recommends trying Face Reality's Acne Face and Body Wash if you struggle with acne around your hairline.
Does Dry Shampoo Cause Hair Loss?
Since dry shampoos are not meant to replace regular shampooing, overuse could result in hair loss and inhibit growth. In addition, when used several times a week, the ingredients in dry shampoo can build up on the hair follicle. This buildup weakens the follicle and may cause inflammation, increasing hair shedding. Another downside of dry shampoo is that the powders they contain can cause hair follicles to stick together, so when normal hair sheds, it may take a few extra strands out.
*If you struggle with hair loss, checking out Nioxin's hair regrowth treatment may be beneficial.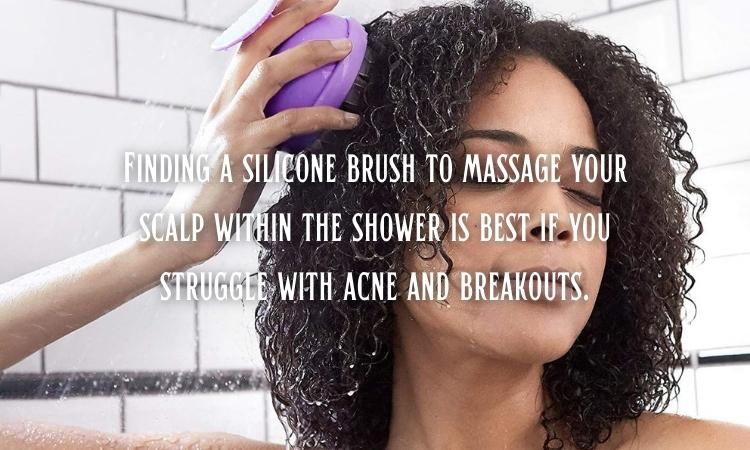 Can You Bring Dry Shampoo on a Plane?
In a checked bag? Yes. In your carry-on? Only if the total amount per person does not exceed 2 kg (70 ounces) or 2 L (68 fluid ounces), and the capacity in each container can not go over 0.5 kilograms (18 ounces) or 500 ml.
*Fun fact, Skin Beauty carries travel sizes of many brands, including Amika!
Is Aerosol Dry Shampoo Better Than Powder?
Environmentally, the answer is no; while the convenience factor might be enticing, just a few quick sprays to blast away oil, the environmental impact is much worse than using a powder. However, if you have more fine hair, it may apply more evenly to your scalp when sprayed.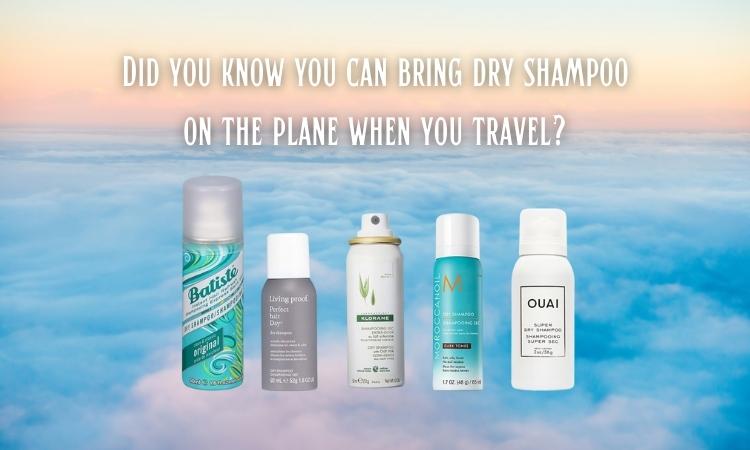 What is Foaming Dry Shampoo?
Foaming dry shampoo (also called dry shampoo mousse) is a more water-based version of regular dry shampoo that turns into foam when you shake the bottle. It offers similar benefits as other dry shampoo types; clean, odor-free, and less oily hair. Dry shampoo foam is a hair-washing solution for when there isn't time to take a shower and you need a quick fix for your hair or roots. Foaming dry shampoo absorbs excess oil on the surface of your hair strands and disappears into your hair without leaving a white residue. Remember that dry foam shampoo is best for thick hair and can be too heavy for thin hair. Dry mousse is excellent for next-day washing when your hair is not yet very oily or if you need to redo a hairstyle to restore the original look. In addition, the small percentage of water in the foam shampoo can help if you want to restyle your hairstyle quickly.
*Skin Beauty's favorite foam dry shampoo is Amika Phantom Hydrating Dry Shampoo.
5 Dry Shampoo Tips for Black Hair
Hold the dry shampoo bottle a min of 12 inches away from your scalp.
Spray the dry shampoo under your hair part.
Use a brush and blow dry through your hair after application.
Use dry shampoo before you get greasy as a precaution.
Try a dry shampoo for "dark tones" or "dries clear" to reduce the risk of a white residue.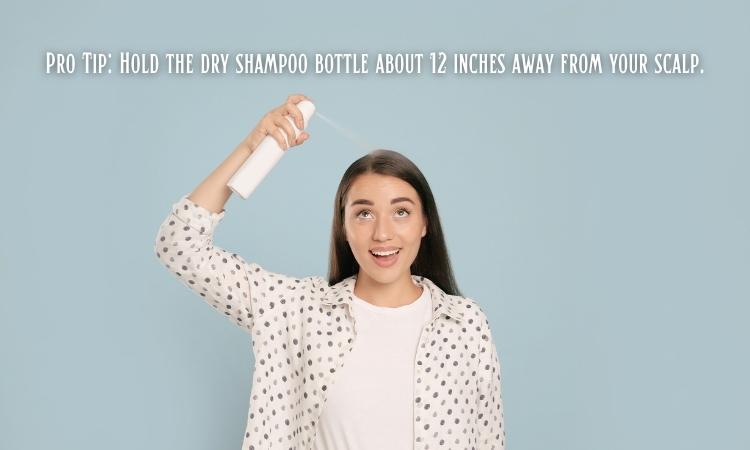 How to use Dry Shampoo on Braids in 4 Steps
If you have fine, flyaway hair that struggles to keep braids and hair ties to stay in place, dry shampoo will change your hair game. Give your hair more grip by using dry shampoo to texturize hair before braiding. So when trying to keep your braids or twists looking solid, dry shampoo is your best friend. Here's how to use dry shampoo on braids:
Shake the can for at least 20-30 seconds to mix it.
Hold the can 12 or more inches from your scalp and spray evenly between your braids, lifting them to reach all areas, including the back of your head.
Wait two to three minutes, then use your fingers to massage the dry shampoo on your scalp and roots gently.
If you need additional volume at the roots of your braids, massage dry shampoo into the base of the braid near your scalp.
How to Use Dry Shampoo on Fine Hair
If you have silky, thin, or fine hair, dry shampoo can help get your hair manageable. Dry shampoo helps texturize and volumize greasy hair and control static electricity. It would be best if you started to massage dry shampoo into your scalp and pull it through your hair with a brush. It will be easier to work with and help your hair to grip hair ties or other products. This technique isn't recommended for box braids or crochet since you don't want to weigh them down.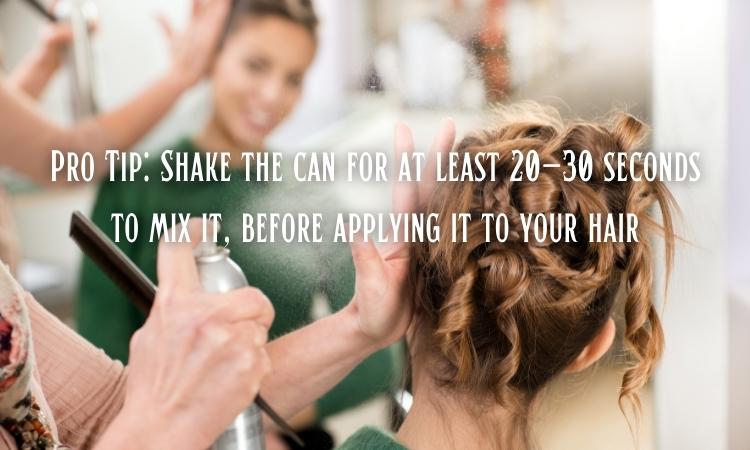 What is Paste Dry Shampoo?
Paste Dry Shampoo gives hold and has a pinpoint application, unlike a dry shampoo spray. Also, because it's applied with the fingers, you control exactly where it goes:
Put a nickel to a quarter-size amount in your hands, then go directly to the scalp to provide texture at the root.
Run your hands through your hair, evenly distributed.
With traditional dry shampoo, your hair blows with the wind, but with a paste, your hair has more structure and hold, so your waves will stay in place with this type of product.
3 Things to Try if You Don't Have Dry Shampoo
1. Baby Powder
Baby powder is a reliable dry shampoo alternative that has been used since before dry shampoos were ever popular. However, less is more for the best results. Applying about a teaspoon of baby powder and then brushing it through your hair will absorb the excess oil and have your hair looking fresh. Don't just sprinkle it on top of your head; move your hair strands and apply the baby powder between the layers to absorb throughout. When using baby powder for your quick hair fix, remember that, unlike corn starch, it has a slight scent. Baby powder works best on blonde hair because of the white color of the product. It works best on thicker hair because if too much is applied, it can leave fine hair looking limp and lifeless. From a health stance, most baby powders are formulated with talc, which is harmful if ingested. If you're someone with a talc allergy, we always recommend reading the ingredients label on your powder before using it.
2. Translucent Setting Powder
Translucent setting powder can be great on the go. Make sure you apply it with a clean blush brush and tap it in rather than brushing it. Before trying out this tip, be aware that while many hairstylists and dermatologists promote powders and starches for oil absorption, these products can get cakey and cause buildup. Therefore, they should be used rarely and followed up by a clarifying shampoo when it's time to shower.
3. Add Extra Texture
Teasing and back-combing your hair are quick and easy ways to disguise oily strands. They help create volume, disburse oil and help lift your hair from the root, making it harder to see oils on the scalp and an excellent option for that updo-style event. Dirty hair always seems to style better, so tease away and comb it into your desired style.
*Amika has the perfect texturizing spray!
Pro Tip: If you have a sensitive or severely dry scalp, be weary of baking soda because it can be too harsh and put you at risk of over-stripping your hair. Also, we don't recommend using baking soda if you have telogen effluvium, active infection, or inflammatory skin disorder like psoriasis or eczema.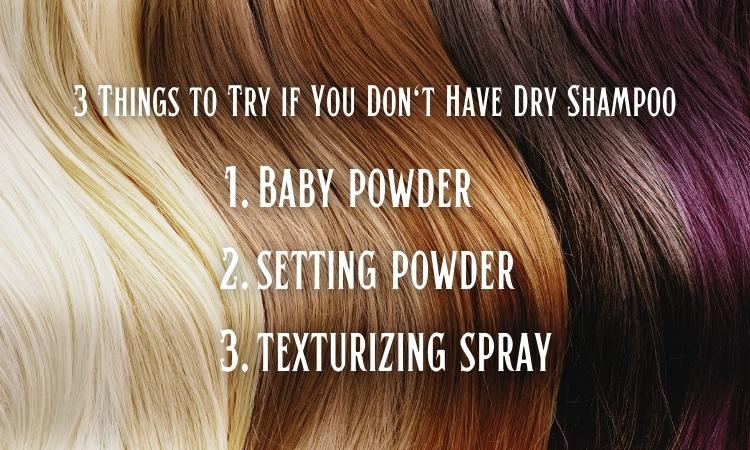 The Conclusion on How to Use Dry Shampoo Properly
Honestly? We recommend following the application steps listed above if you plan to use dry shampoo for the best results. If you have color-treated or dark hair, there are a few extra tips to watch out for before using a new dry shampoo product. Try to use dry shampoo as little as possible (1-3 days a week) and always do a deep scalp cleanse and massage when you wash your hair thoroughly in the shower. Check out the list of the common ingredients to eliminate any that may cause sensitivity to your scalp. If you notice any new scalp acne or feel any irritation at all, immediately quit using that brand of dry shampoo. Talk to your hairstylist if you have further questions about your specific hair type.
Recent Posts
Expecting overnight results from skincare will set you up for disappointment. Makeup offers a quick …

Dry shampoo can be a life-changing hair product if you use it correctly. Dry shampoo is a beauty sta …

Dark under-eye circles sneak up on you, and before you know it, they significantly impact your life. …