There is a frequent struggle within the skincare world about the best methods, usually pertaining to exfoliation. What are the best practices when it comes to exfoliating? Should you be exfoliating more often, less often, or not at all.
Exfoliation is the best example of this, as it can be confusing. You have options between mechanical exfoliation and chemical exfoliation. Mechanical exfoliation pertains to a physical exfoliation - Hold on - Chemical exfoliation would be better, perhaps? You hear positives and negatives about each, so how do you decide what the best option is for your skin? Let's take a closer look at each.
First of all, what is Exfoliation?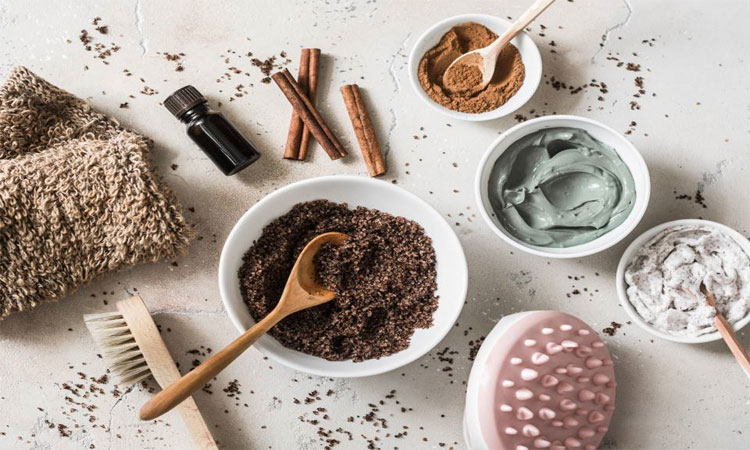 Exfoliation renews the health and look of your skin. Just as buffing or polishing your nails, exfoliating skin on your face produces a clean canvas for your makeup and other skincare products.
Using chemical or mechanical exfoliants eliminates dead skin cells that accumulate on the surface of your skin. The skin's normal cleansing process needs help occasionally, particularly as age slows this process down.
Results of exfoliating vary for each skin type. Over-exfoliating or performing the incorrect way for your skin type can create irritation issues.
Benefits of Exfoliation
Unclogs pores, helping to release natural moisturizing oils.
Eliminates pigment-containing skin cells to decrease age spots.
Reduces the appearance of pores and scars in the surface layers of skin.
Reduces the look of fine lines and wrinkles.
Increases penetration of moisturizers and other skincare products.
Decreases breakouts by unclogging pores.
Improves collagen production to renew skin elasticity.
To maintain your skin looking remarkable, exfoliation should be included in your regular skincare routine. If you don't currently exfoliate regularly, it's a great thing to add into your routine casually. Suddenly starting an exfoliation regimen can cause irritation or harm your skin, so it is essential to begin with a mild exfoliant a few times a week before increasing use.
Chemical Exfoliation: ALL ABOUT ACIDS
This method is as it seems – applying chemicals to eliminate dead skin cells by supporting cellular turnover. If you've had a common chemical peel, then you've experienced this method up close and personal. Chemical exfoliators can be cleansers, toners, or serums and are made up of acids. Don't let that scare you, though! They are gentle acids, typically held in low doses, and very beneficial to the skin.
Alpha hydroxy acids(AHAs) and Beta hydroxy acids(BHAs) are the two main kinds of chemical exfoliators.
AHAs are procured from natural elements, and they are excellent at separating the dead skin cells, causing them to tear up and slough off more easily, but they don't stick very deeply into the pores because they're water-soluble. They're particularly excellent if you're concerned about sun damage, uneven surface and texture, and pigmentation. These include lactic acid and glycolic acids.
On the other hand, BHAs are oil-soluble, allowing them to penetrate deeper into your skin. They are perfect for acne-prone, and oily skin because not only can they transfer deeper down into your skin, but they also have significant anti-inflammatory and antibacterial qualities. They include salicylic acid.
When used together, you get a good overall appearance. BHAs can break down the links between the cells, and the AHAs can help those cells in dividing.
Plus, enzymes can also be helpful exfoliators. Papain from papaya and Bromelain from pineapple are generally used. These can usually be more suitable for more delicate skin.
AHAs — Typically used in mild chemical peels, AHAs are procured from natural sources like milk, fruit, and sugar. Two of the most common AHAs used in skincare products are lactic acid (from milk) and glycolic acid (from sugar).
BHAs — Mainly used in mild chemical peels, BHA is recognized as salicylic acid. It is a synthetic derivative made from the exact origin as aspirin.
Enzymes — Obtained from natural sources like fruit, enzymes work in a similar way to acid-based exfoliants but at a slower pace, making them very reliable and soothing.
Mechanical Exfoliation: SCRUBS & TOOLS
Mechanical exfoliation is often performed using a more abrasive method such as a washcloth, facial scrub, or brush, disrupting the skin's surface. While mechanical exfoliation can have various benefits for skin that chemical exfoliation may not have, you should still be cautious about the tools you choose to exfoliate with. A soft rotating brush or washcloth can be wonderful choices, but lots of facial scrubs, especially those including nuts, or particles with jagged edges, can create minor, invisible injuries in the skin. This can increase inflammation and increase your chance for irritation. Ensure any scrubs you select to manage are mild and don't include harsh ingredients such as ground nutshells or jagged edged particles. When rubbing a scrub onto your face, use light pressure and go gently.
Small Granules — Natural elements such as jojoba beads and ruby crystals are tiny granules. They are similar in dimension and form, making them an effective exfoliant with a low chance of harming and irritating the skin.
Large Granules — More rough materials such as pumice and magnesium oxide crystals form larger granules are used to exfoliate skin types with thicker skin.
Natural Materials — Though some natural materials such as ground fruit pits and seeds or crushed nutshells have a natural character, their irregular shape and uneven edges can harm the skin.

Exfoliation for Different Skin Type
Acne-Prone Skin — If you have skin prone to breakouts, a strong mechanical exfoliator may be too harsh for your skin and might increase bacteria making your breakouts more serious. Alternatively, try a chemical exfoliator composed of BHA and exfoliate no more than once a week.
Dry Skin — Dry skin has difficulty receiving moisture, so you need an exfoliator that eliminates dead skin cells while supplying your skin's natural moisture. Find one that includes both AHAs and BHA along with super small granules such as jojoba beads to soothe and exfoliate your skin.
Oily Skin — You may be able to exfoliate more often, depending on which product you pick, because oily skin usually can tolerate more exfoliation. Try an exfoliator that includes AHA or BHA and moisturize after exfoliating, this way you will not dehydrate your skin.
Combination Skin — If your skin is a combination of oily T-zone and dry skin on your cheeks and forehead, you might like to use an exfoliator that mixes both chemical and mechanical exfoliation. Products made with glycolic and salicylic acids that also contain exfoliating beads may work adequately.
Sensitive Skin — If you have sensitive skin, you should avoid strong skincare methods as mechanical exfoliants and unnatural acids. Try to find a chemical exfoliant that includes natural enzymes like a fruit enzyme peel or one that holds lactic acid to exfoliate softly with minimal stress.
Aging Skin — As you get older, your skin's cell turnover rate reduces, which can make your skin look tired. A chemical exfoliator featuring glycolic acid will assist in sloughing off dead skin cells without cutting your skin's natural moisture. It will also help boost collagen production while reducing pigmentation and age spots.
Healthy Skin — For normal skin with few problems, you have more options to experiment with. Chemical and mechanical exfoliants will both work for your skin type.
Everyone has a different skin type. It takes some time to discover the right exfoliator that will work adequately for you. Even if you pick the proper exfoliator for your skin, you still need to be cautious not to overuse it. If you exfoliate too often or put too much stress on the skin with mechanical exfoliants, you could create sensitivity and inflammation in your skin. Sensitive skin can become red and flaky, or it could produce even more breakouts. To avoid these risks, always apply moisturizer after exfoliating.
Bottom Line
It comes down to your personal choice, and what will work best for your skin. The most beneficial kind of exfoliation for you will depend on your skin type, your preferences, and the rest of your skin routine methods. Whether you select chemical or mechanical exfoliation, be gentle with your skin, and don't demand dramatic effects overnight. However, if you invest your time in new products, you'll soon be amazed how smooth, clear, pleasant, and healthy your skin will look!
Recent Posts
What is a Micro-Peel?Micro-Peels have soared in popularity due to their quick recovery time, effecti …

What does CoolTone look and feel like?An FDA-approved CoolTone treatment uses Magnetic Muscle Stimul …

Living with oily skin can be a confusing problem. For example, using a face wash can feel pointless, …