Are you looking to get brighter, more even skin? Do you want to get rid of lines and wrinkles? Do you want to protect your skin from UV rays? Is PFB Skin Vitamin C serum good? What does PFB Triple AntiOx serum do? Is it worth it? Where to get it? You have come to the right place, read on!
PFB Skin Triple Antiox Serum is a powerful anti aging and brightening serum that is formulated with vitamin C and E and Ferulic acid to provide complete antioxidant environmental protection against free radicals.
Triple AntiOx = 3 antioxidants that protect your skin and make you look younger
It is specially designed to create an overall brighter, firmer, and more youthful complexion with the lighter appearance of fine lines and wrinkles. Unlike other serums, this serum leaves the skin feeling perfectly hydrated with its Sodium Hyaluronate base.
What is C E Ferulic Acid?
There has been a lot of hype about C+E+Ferulic Acid in making you look younger, what is it actually? As the name suggests, this serum combines Vitamin C, Vitamin E,and Ferulic Acid which are scientifically proven to work well together and works wonders for your skin. Let's dive into the benefits of each vitamin and how they work together in this magical serum!
Vitamin C
Vitamin C, also known as L-ascorbic Acid, protects skin cells by fighting free radicals from UVA, UVB, Infrared Radiation and Ozone pollution. Vitamin C promotes melanin production, adding brightness to skin and fade skin discoloration, removing spots. What's more, Vitamin C also promotes collagen production, minimizing the appearance of fine lines and wrinkles and brings a more even skin complexion.
Vitamin E
Vitamin E is a powerful antioxidant that also provides photo-protection from environmental damage in the skin, reducing UV reaching the skin and neutralizing free radicals. It has anti-inflammatory benefits and adds hydration to the skin. When used together with Vitamin C followed by sunscreen, it boosts protection against the sun up to 4x.
Ferulic Acid
Ferulic Acid is a plant-based antioxidant that also fights free radicals and boosts the effect of other antioxidants. It stabilizes other antioxidants, enhancing the effects, bringing out the greater benefits from the Vitamin C and E.
In summary, Vitamin C, E, and Ferulic Acid are all antioxidants that provide your skin from the sun. Scientifically, they have properties that boost the benefits of one another, from greater UV protection, higher stability, to combined anti-aging benefits and hydration. That is why C E Ferulic Serum is very popular in the industry nowadays.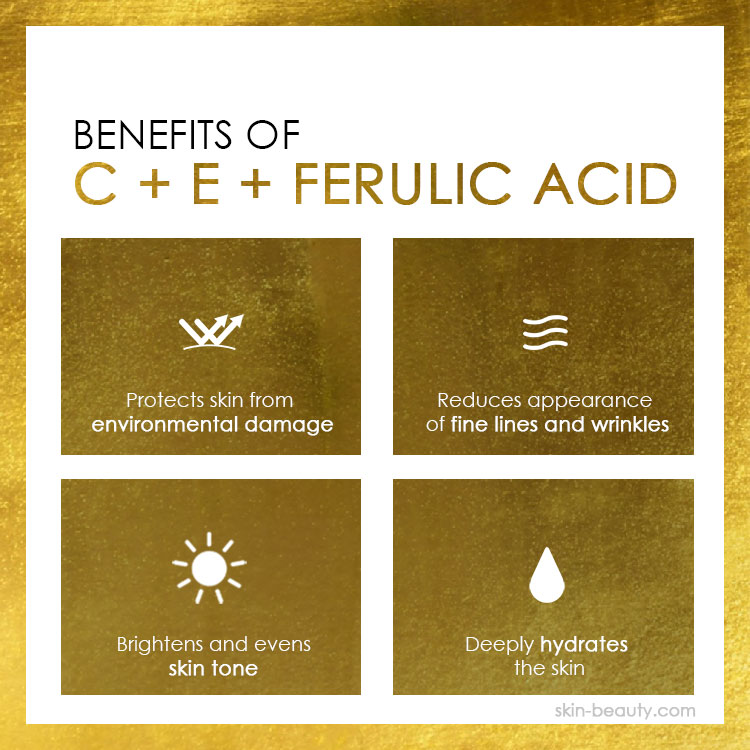 Benefits of C E Ferulic Acid Serum
Protects the skin from environmental damage (bye free radicals!)
Reduces appearance of fine lines and wrinkles
Brightens and evens skin tone (no more dull skin and spots)
Deeply hydrates the skin
How to apply C E Ferulic Serum
Prior to applying, cleanse your face with warm water, then use this serum before applying other products. Apply 2-3 drops into the palm of your hand. With your fingertips, apply to your face, neck, and chest every 24 hours. PFB claims that it is normal to have a slight tingling sensation upon use, so don't worry if you do, enjoy the magic working on your skin.
For best results, top with SPF, this could be sunscreen or moisturizer that contains SPF such as Image Skincare Prevention Daily Moisturizer SPF 32. When this serum is applied under sunscreen, it provides 4x the protection against environmental damage compared to sunscreen alone.
Is C E Ferulic worth it?
Yes, yes, and YES. There are numerous great benefits that you could get from this serum, but one problem people may have is the price. This serum is typically in the $129-159 range with the popular SkinCeuticals Ferulic Acid coming in at $166 per ounce. We looked into the market and we found the best bang for your buck of this serum. Our solution to you is Triple Antiox Serum: C + E + Ferulic Acid (1oz) from PFB Skin at only $59. It is a great product and if we can help you save some money, why not?!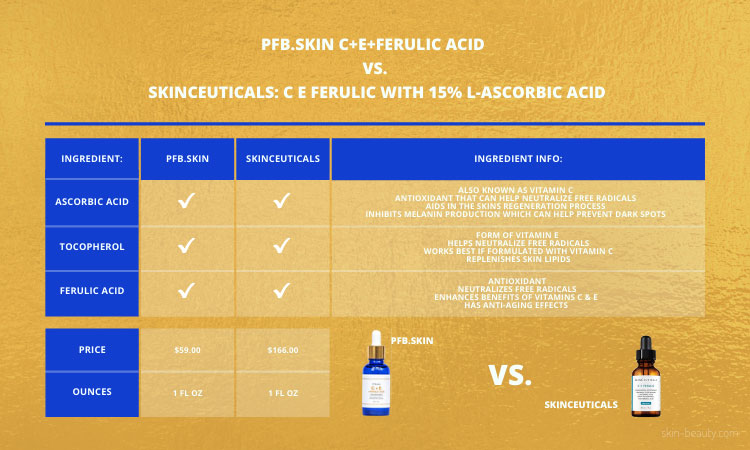 Where to buy PFB Skin C E Ferulic Acid Serum?
This item comes with free shipping within the United States, and we ship international too.
Conclusion
CE Ferulic Acid Serum is a miracle wonder at protecting and keeping you beautiful. Should you buy PFB C E Ferulic Acid Serum? YES!
Recent Posts
What is a Micro-Peel?Micro-Peels have soared in popularity due to their quick recovery time, effecti …

What does CoolTone look and feel like?An FDA-approved CoolTone treatment uses Magnetic Muscle Stimul …

Living with oily skin can be a confusing problem. For example, using a face wash can feel pointless, …