Hyaluronic acid is a common ingredient in skincare products. It has been known as a powerful skincare ingredient for dry and dehydrated skin. It can be found in different forms of skincare from serums to moisturizer and even injectables.
What is hyaluronic acid?
Hyaluronic acid is a glycosaminoglycan - a substance found naturally in our skin that holds water and helps keep our skin moist and pump. The hyaluronic acid molecule holds a large amount of water to retain all that moisture in our skin, and prevent all that moisture from evaporating into the air. This routine works overtime by replenishing skin to enhance a healthy and fresh look. Unfortunately, the amount of naturally-occurring hyaluronic acid in our bodies decreases as we get older, making us more susceptible to sagging and wrinkles.
Hyaluronic acid is also a type of humectant which is a hygroscopic substance used to keep things moist. It is categorized as the main ingredient for dry and dehydrated skincare products such as hydrating moisturizers, serums because of their ability to help boost hydration for the skin.
What does hyaluronic acid do for your skin?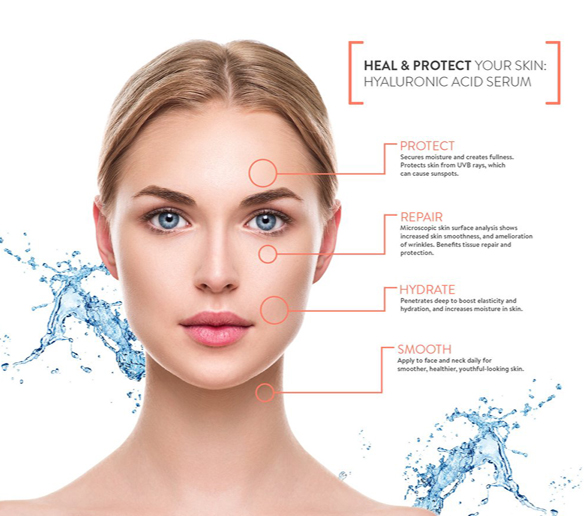 Hyaluronic acid is a hydrator. The unique ability of hyaluronic acid is to hold so much water makes your skin moisturized and hydrated. It helps your skin look plumper, firmer, and has a luminous glow.
Hyaluronic acid can enhance moisture content beyond comparison. It also revitalizes the skin's outer surface layers, so they look and feel softer, smoother, and radiantly hydrated.
Another benefit of Hyaluronic acid is wound healing. Hyaluronic acid naturally in the skin, when skin is environmental damage , hyaluronic acid is concentrated and help to repair the skin. Applying hyaluronic acid directly to your damaged area can speed wound healing process.
These are the best rated hyaluronic acid serums you should add to your skincare routine
Recent Posts
What is a Micro-Peel?Micro-Peels have soared in popularity due to their quick recovery time, effecti …

What does CoolTone look and feel like?An FDA-approved CoolTone treatment uses Magnetic Muscle Stimul …

Living with oily skin can be a confusing problem. For example, using a face wash can feel pointless, …