Dark circles are a common problem with men and women and all groups of age, especially above 20. People can use chemical products to help in getting rid of them or makeup to conceal them. However, there are so many home remedies with natural ingredients that can help to remove dark circles under the eyes instantly and naturally.
What mainly causes dark circles?
Lack of sleep
Allergy to chemical products, like ingredients of makeup, hair dyes, some medicated applications like eye drops, and facial creams.
Genetic factors - the problem of undereye bags and pigmentation around the eyes runs in the family.
Stress (physical or mental) can be a major factor that contributes to your eyes looking tired.
Bad lifestyle behaviors such as smoking, drinking alcohol and using amphetamines
Coconut Oil
The benefits of coconut oil are uncountable. It not only improves your health but also enhances physical appearance. The vitamin E and antioxidants found in coconut oil help heal and repair damaged skin cells. It also has anti-inflammatory properties, which helps reduce swelling. Just massage some extra virgin coconut oil under eyes before bed; you can notice a significant difference.
Cucumber
Cucumbers contain antioxidants that can reduce puffiness and dark skin around the eyes. As a natural astringent and a coolant, cucumber causes the skin tissues to contract. This makes under-eye circles less prominent. Place finely cut cucumber slices on each eyelid. Leave it on for 5 - 10 minutes and rinse. Repeat this treatment twice a day, if possible.
Cold tea bags
Using a cold tea bag is the most common remedy for dark circles around the eyes. The caffeine in tea bags shrinks blood vessels and reduces fluid retention in tissues. This treatment makes the skin around your eyes look vibrant and glowing. Take two already soaked tea bags and refrigerate for 20 minutes. Squeeze out all liquid and place them on each eye for 5 -10 minutes. Rinse with cold water and repeat twice a day for the best results.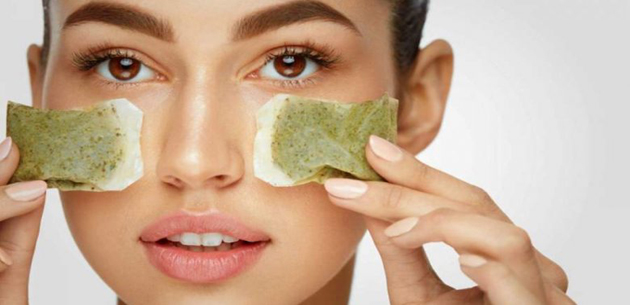 Tomatoes
Tomato is one of the excellent solutions for removing dark circles. It naturally helps to decrease the dark circles and also makes the skin soft and supple. Mix one teaspoon of tomato juice with a teaspoon of lemon juice and apply it under your eyes with cotton pads. Let it remain for about 10 - 15 minutes and then wash it off with water. Repeat this remedy at least twice a day.
Cold Milk
Milk contains multiple vitamins like A and B6, which help build new skin cells. Inditionally, the vitamin B12 in milk naturally brightening dark skin. The selenium in milk also protects skin from harmful free radicals and sun damage. Simply soak two cotton pads in cold milk and squeeze out excess. Place them on the eyes covering the dark circles. Leave it for 20 minutes and rinse with cold water. Repeat this treatment twice a week..
Rosewater
Rosewater is great for those with sensitive skin. Rosewater rejuvenates the skin, soothes tired eyes and helps reduce dark circles. Take two teaspoons of rosewater and mix it one teaspoon of cold milk. Soak two cotton pads in the cold mixture and cover your eye area with it for 20 minutes. Then rinse it off with water. Repeat every night for a month for the best results.
Recent Posts
Have you ever wondered what age spots are and why they appear? Age spots, which may be either brow …

Are you a green tea lover? People drink green tea on the daily basis for many reasons, including …

The internet is abuzz with the latest skincare trend: skin cycling. If you're not familiar, skin …