Are you looking for a vitamin C alternative that is gentle on your skin? There are several options available that can provide the same benefits as traditional vitamin C products. Here are a few to consider: niacinamide, Indian ginseng, carotenoids, and viniferine. Each of these ingredients can help to brighten your skin, protect it from damage, and reduce the appearance of fine lines and wrinkles. Talk to your esthetician or dermatologist to find out which one would be best for you.
If You're Sensitive to Vitamin C Serums, Try These Alternative Products Instead
Vitamin C is often associated with irritability on the skin, despite its fame for battling aging. It has a high anti-aging value that can improve skin elasticity, firming skin tone, and smooth out dull skin tone. Vitamin C also helps prevent photoaging and acts as a barrier against external influences including smoking and pollution.
What Can I Use Instead of a Vitamin C Serum?
If you've been experimenting with vitamin C serums, you should definitely check out this list! This list of product suggestions shows some of the finest ingredients to brighten your face that does not require vitamin C. We'll go through all the vitamin C alternatives today.
What is the most gentle form of vitamin C?
Ascorbate minerals like magnesium and calcium ascorbate are known as the "buffered vitamin C." Many people find this softer vitamin C that is more easily digested and tolerated in gastrointestinal systems.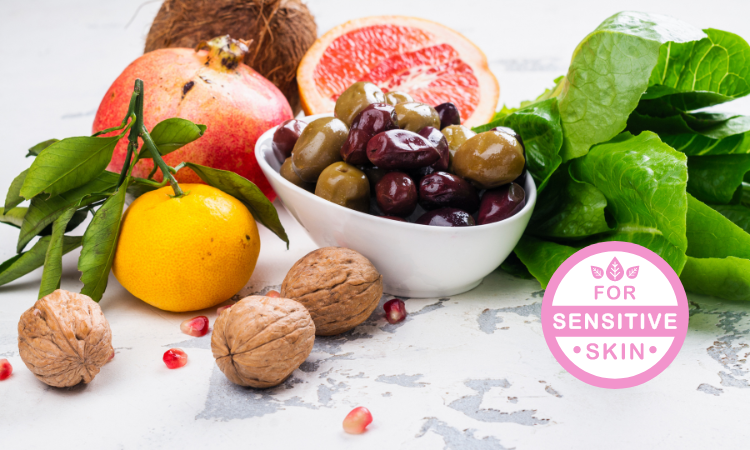 Niacinamide - a form of vitamin B3 that is a skin brightener, antioxidant protectant, and anti-aging skincare ingredient
Niacinamide is an amazing form of vitamin B3 that has been gaining traction in the skincare community. It is an antioxidant protectant, anti-aging skincare ingredient, and most significantly a skin brightener. This multi-tasking ingredient isn't exclusive to chemically active substances, however. It can be naturally derived from milk, yeast extract, and different types of mushrooms! Niacinamide's ability for quick absorption makes it especially desirable for those who struggle with sensitive skin - no harsh irritants here. Be sure to give it a try if you're looking to reap all the same Vitamin C benefits without the risk of irritation or inflammation!
Indian Ginseng - an adaptogenic herb that helps the body cope with stress and has been shown to improve skin elasticity
Indian ginseng has long been used to help regulate hormones and metabolisms, but it's also gaining attention for its potential in skincare. A long-standing remedy for skin sensitivities, this adaptogenic herb has been a part of holistic health regimens for centuries. You may now find Indian ginseng featured in topical treatments due to its ability to improve skin elasticity and reduce signs of aging. Some believe that Indian ginseng can even act as an antioxidant protectant and brighten the complexion while they reap the same benefits as other vitamin C alternatives. In short, Indian ginseng is an excellent choice for those with sensitive skin looking to naturally enhance their complexions with all-organic ingredients!
Carotenoids - a type of pigment found in plants that can act as an antioxidant and help to protect the skin from damage
Carotenoids are a type of pigment that can be found naturally in plants like tomatoes, sweet potatoes, carrots, and spinach. They work to protect the skin from damage, such as UV exposure, by acting as an antioxidant. This means they don't just help promote a flawless complexion, but also help to reduce spots or blemishes from forming. Additionally, carotenoids have anti-aging properties as well! A few drops of these superfoods can help to increase radiance in your skin and keep it looking younger for longer – what's not to love? Incorporating this nutrient into your skincare regimen is a great way to reap the same benefits associated with vitamin C without worrying about any sensitivities.
Viniferine - a compound found in grapes that has been shown to reduce the appearance of wrinkles and dark spots
Viniferine is a compound found in grapes that are becoming increasingly popular for its anti-aging benefits. Recent studies have shown that it can reduce the appearance of wrinkles and dark spots and hydrate the skin, making it look wonderfully radiant. A powerful ingredient in skincare products, this antioxidant can be a great alternative to Vitamin C for those with sensitive skin to help promote elasticity and improve luminosity over time. Though there are other alternatives to Vitamin C, Viniferine has an edge as it not only offers antioxidant protection but also provides an effective defense against sun damage and other external aggressions. It's a great way to reap all the amazing benefits of vitamin C without worrying about irritation!
Lactic Acid
Lactic acid is a mild AHA (alpha hydroxy acid) suitable for any type of skin. It helps in combating skin-texture irregularities and wrinkles and also improves appearance. The product can also lighten the complexion and address the problem of small enlarged pores such as acne scarring, dark spots, and acne. Find Lactic Acid Serum Reviews here. Lactic acids have been proven effective against sensitive skin, which makes them an effective alternative for people with sensitive skin who cannot tolerate L-ascorbic acid.
Alpha Arbutin & Kojic Acid
Alpha arbutin is also an antioxidant and a beta tyrosine inhibitor and therefore can help reduce pigmentation. Alpha arbutin improves skin texture, skin color, and pigmentation, and prevents pigmentation in cutaneous cells to develop. Kojic acid provides an excellent skin-brightening effect that can help improve any skin tone. How we use them varies according to different products. When used together with another active ingredient in your product it can be used for mainly nighttime use. My favorite vitamin C supplement.
Tranexamic Acid
Traneexaminem is an artificial form of amino acids lysine used to treat pigmentation. Applied on the face to help remove discoloration, brighten the skin, or reduce darker acne scars. According to the product, the product's ingredients can be used morning or night. When used with other actives such as exfoliants, this may not be used for PM. The most recognizable tranexamic acid product is Murad Replenishing Multi-Acid Peel, which is a rare product in Australia containing tranexamic acids.
Azelaic Acid
Azelaic acid also serves as a multi-functional or multi-purpose skincare component which also fits the vitamins alternative. It is actually going to benefit your skin as well: vitamins can help to reduce skin wrinkles and improve elasticity.
Get the same benefits as vitamin C without sensitivity by using these alternatives!
Vitamin C can be great for your skincare for things like skin brightening, antioxidant protection, and anti-aging. But if you've got sensitive skin, you might worry about using it. Don't worry, though! There are plenty of alternatives out there that can help you reap the same benefits without causing skin sensitivity. Niacinamide, Indian Ginseng, and carotenoids are all great to try as they all have antioxidant-rich formulas that can give your skin a brightened, youthful glow without risking irritation. Viniferine's a great alternative too, containing natural ingredients and giving even more effective results with continued use - so don't stress if Vitamin C just isn't your thing - you can get the same awesome benefits with these alternatives!
In conclusion, vitamin C is a powerful ingredient for skin health and can provide tremendous benefits to those with sensitive skin. However, there are alternatives that may be better suited for those who don't tolerate it well. The alternatives discussed were Niacinamide, Indian Ginseng, Carotenoids, and Viniferine. Each of these ingredients boasts similar properties and benefits as Vitamin C but cost a fraction of the price and causes less sensitivity for many people. Furthermore, if you find that Vitamin C still doesn't agree with your skin, you can always try one of these alternatives to reap the same benefits without risking irritation. Thank you for reading - we hope our blog post helped you discover some fantastic natural alternatives to fight wrinkles and signs of aging!
Recent Posts
Have you ever wondered what age spots are and why they appear? Age spots, which may be either br …

Are you a green tea lover? People drink green tea on the daily basis for many reasons, including …

The internet is abuzz with the latest skincare trend: skin cycling. If you're not familiar, skin …