When you hear "chlorine," your mind goes straight to a swimming pool. The CDC states chlorine can be found in different forms, including bleach, pesticides, swimming pools, and drinking water. Yes, chlorine is used in drinking water to kill harmful bacteria. However, chlorine is also found in gas form, which is poisonous and can be identified by its yellow-green color and strong, pungent smell. So what does chlorine do to your hair, and more importantly, how can you protect your hair from it?
What Chlorine Does to Your Hair:
While chlorine properly keeps things germ-free, it can wreak havoc on our hair and skin. So what exactly does that entail?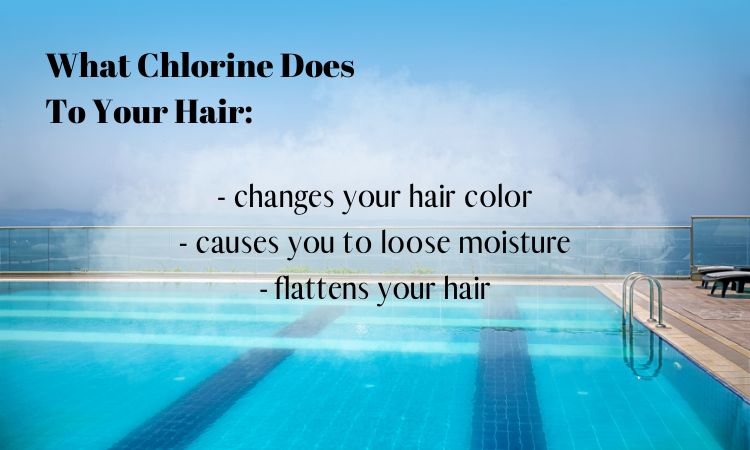 Chlorine Changes Your Hair Color
If your hairstylist told you chlorine would turn your hair green, they were not kidding. Chlorine can also cause the color to oxidize quickly and cause a green cast in lighter-colored hair, which can be challenging to reverse. Typically this rings true, especially for color-treated and blonde hair. Chlorine is bleach, so as a result, it can change the hair's natural melanin. In addition, chlorine helps push various metals and minerals in the water into your hair shaft, creating a greenish-yellow cast. Again, this color change is evident in blondes, and people with color-treated hair are susceptible to a color change with exposure to chlorine.
Chlorine Causes You Hair to Lose Moisture
Experts agree that chlorine can leave hair dehydrated. In addition, chlorine can strip away the natural oils that ensure your hair stays pliable and conditioned. As a result, your hair will look dry and brittle and can be more susceptible to breakage and heat styling damage.
Chlorine Flattens Your Hair
If you're looking for shiny model-like hair, chlorine is not your friend. Hair loses its shine since chlorine strips the hair of its natural oils. As a result, hair will look matte and very unhealthy looking.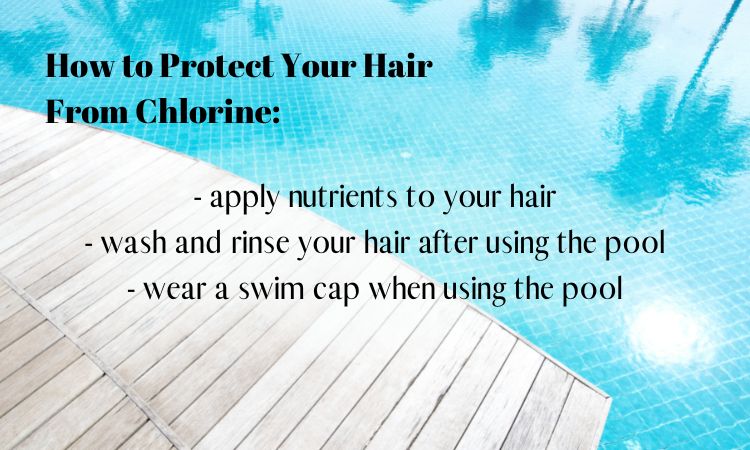 How to Protect Your Hair From Chlorine:
Get Your Hair Wet Before Going to the Pool
Experts agree that getting your hair wet before getting in a chlorine pool can help protect your look, and the more hydrated and moisturized your hair is, the less likely it is to oxidize in chlorine. The best way to prevent this is to ensure your hair doesn't absorb the chlorine. Therefore, we always suggest getting your hair damp before jumping in. This tip takes the crown if you aren't looking to purchase products. Most pools have a shower accessible for guests, and one solid water rinse before entering the pool is all you need.
Use a Leave-In Conditioner
If you want to take the next step in protecting your hair and are looking to purchase products, the experts agree that a leave-in conditioner is an excellent shield against chlorine. Add a leave-in conditioning spray all over the hair as an added protective layer. The liquid emulsion forms a protective layer keeping the cuticle closed, helping to eliminate the absorption of any chlorine. Since the experts' top concerns are color change and dryness, and leave-in conditioner generally helps with both, they agree that if you purchase a product to protect your hair, leave-in conditioner should be it.
Leave-In Conditioner Skin Beauty Recommends:
AG Hair Moisture Fast Food Leave On Conditioner uses potent humectant and Abyssinian oil to mend split ends and moisturize. This conditioner also smooths, calms, and feeds thick to coarse, curly hair while adding a light condition and shine to dry hair.
Moroccanoil All in One Leave-In Conditioner is multitasking, a hair treatment that instantly detangles, hydrates, and protects hair while providing 72 hours of softness. This do-it-all spray works on all hair types to defend against breakage and thermal damage while nourishing, smoothing, and softening.
Amika Vault Color-lock Leave-in Conditioner helps to detangle and soften hair. A blend of amino acids smoothes hair cuticles, keeps hair color vibrant, and restores shine. In addition, it leaves hair protected against the sun to prevent hair color from fading.
Keune So Pure Color Care Leave-In Spray helps to detangle and condition the hair. It protects hair from UV rays, while sunflower seed extract and amylose provide color protection to minimize color fading. A blend of essential oil restores hair moisture balance, and argan oil fortifies hair and scalp.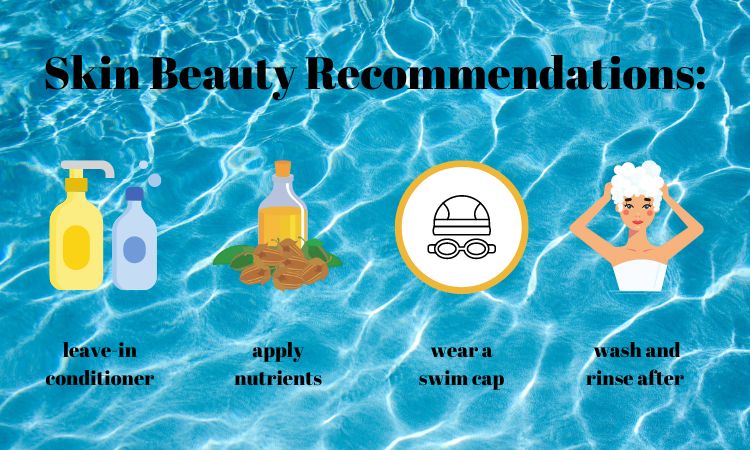 Apply Nutrients to Your Hair
Filling your hair with nutrients can make a difference when protecting it from chlorine. Oils, including jojoba and coconut oil, are full of nutrients like omega-3 fatty acids and vitamin E. These ingredients help protect the hair and are also great for treating dry hair, which can be caused by chlorine exposure.
Wash and Rinse After Using the Pool
Since you must protect and wet your hair pre-chlorine exposure, you must rid the chlorine from your hair as quickly as possible post-exposure.
Always thoroughly rinse your hair for five minutes after exiting the pool, then wash with a gentle shampoo and non-silicone conditioner to help eliminate chlorine and keep your hair healthy, hydrated, and devoid of the dreaded green tint.
Wear a Swim Cap When Using a Pool
To avoid coming in contact with chlorine, one must take care not to wet their hair. Wear a swim cap that covers the head and neck when near pool surfaces or even go for walks around town where there are pools. Of course, the best way is to avoid them altogether, so how do people accomplish this? Well, they wear protective gear such as caps. These types of clothing may not always look glamorous, but at least they'll keep you safe while enjoying summer activities like swimming.
Recent Posts
Expecting overnight results from skincare will set you up for disappointment. Makeup offers a quick …

Dry shampoo can be a life-changing hair product if you use it correctly. Dry shampoo is a beauty sta …

Dark under-eye circles sneak up on you, and before you know it, they significantly impact your life. …