Hyperpigmentation is flat, darkened patches of skin that can vary in size and color. Hyperpigmentation describes areas of uneven skin pigmentation that appear as darkened patches or spots that make the skin look uneven. An uneven skin tone or struggling with skin pigment disorders is very common. It may look as if skin cells on the face or other body parts are a different color.
Anyone who wants to reduce the appearance of an uneven skin tone has a few different options. Though most cases of uneven skin tone do not indicate a medical concern, some people may want to correct it for cosmetic reasons. At-home remedies and professional treatments can help achieve a more even skin tone for your naturally healthy skin color and pigmentation.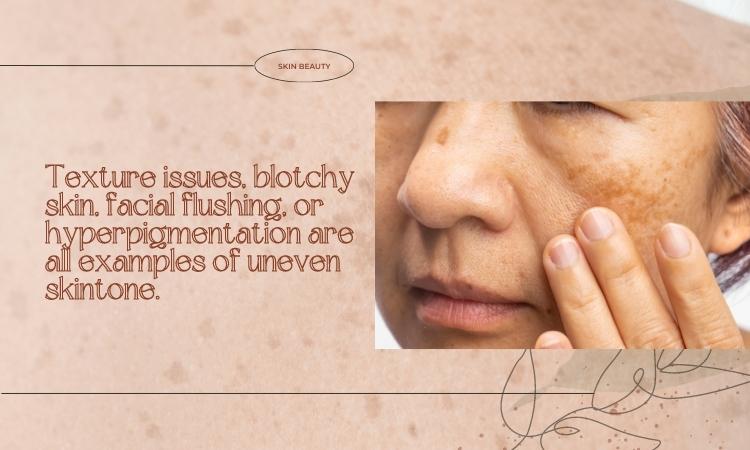 What is an uneven skin tone?
Uneven skin tone is a term that typically refers to texture issues, blotchy skin, facial flushing, or hyperpigmentation. Some people may refer to these conditions as pigmentation disorders. Many different conditions can affect the pigment cells, or melanocytes, present in the skin and cause discolored patches of skin.
One of the more common causes of an uneven skin tone is hyperpigmentation, where the skin overproduces a pigment called melanin. Hyperpigmentation issues may be more likely to affect people with dark skin due to their stronger skin pigmentation.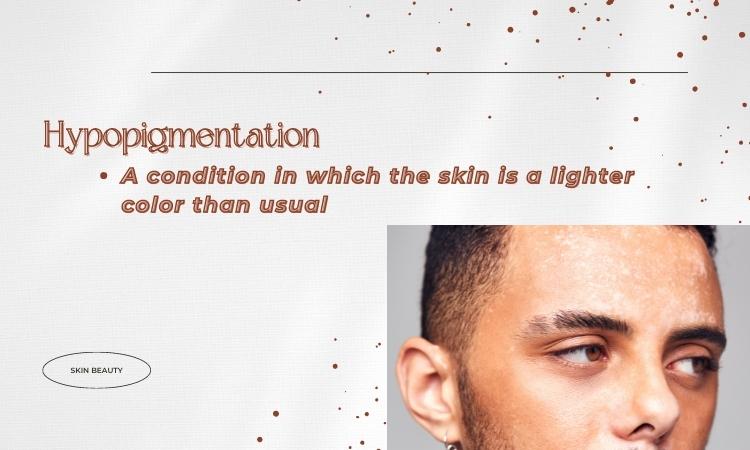 Hypopigmentation vs Hyperpigmentation
Hypopigmentation is a condition in which the skin is a lighter color than usual. It occurs when some cells in the skin do not make enough of the pigment called melanin. Hypopigmentation can affect a small area of the skin or be widespread. The condition most commonly develops as a result of injury or trauma to the skin. Blisters, burns, and infections can all damage the skin and lead to hypopigmentation. In addition, white patches of skin are very sensitive to the sun.
Technically there is no one-time permanent cure; however, treatment may include the following:
Covering smaller patches with long-lasting dyes.
Light-sensitive medicines.
UV light therapy.
Corticosteroid creams.
Surgery.
Removing the remaining pigment from the skin (depigmentation).
Post-inflammatory hypopigmentation is a loss of coloration due to scarring that can go away independently. But it can take anywhere between a few weeks to a few months to disappear entirely, depending on the extent of the scar.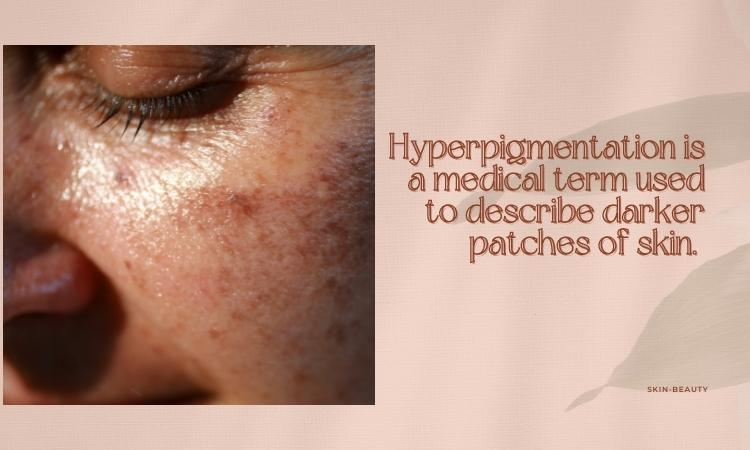 Hyperpigmentation is a medical term used to describe darker patches of skin. These patches result from excess melanin production. Hyperpigmentation means the skin looks darker than usual (often brown to grey)—the more common response after inflammation. Dry weather, cold temperatures, and decreased humidity can cause dry patches and worsen skin conditions like acne, psoriasis, and eczema, leaving behind persistent dark spots. Some of the potential causes of skin inflammation are:
Immune system dysfunction. Sometimes your immune system may not work correctly and may direct immune response to normal, healthy tissues, such as psoriasis.
Allergic reaction.
Bacterial, viral, or fungal infection.
Photosensitivity.
Heat.
Treating underlying conditions related to hyperpigmentation
Proper treatment of skin conditions such as acne, rosacea, and psoriasis may help prevent the formation of new areas of hyperpigmentation. It may also allow existing areas of hyperpigmentation to fade over time. Using a sunscreen of 30 SPF or higher daily is recommended for ideal sun protection. Blocking out the sun's UV rays will stop the triggering of excess melanin, which can help prevent the formation of new areas of hyperpigmentation and allow any existing ones to fade.
Start a brightening skincare routine to help boost skin clarity and reduce age spots to reduce hyperpigmentation. While hyperpigmentation will not go away overnight, targeted serums and treatments can help speed up the process.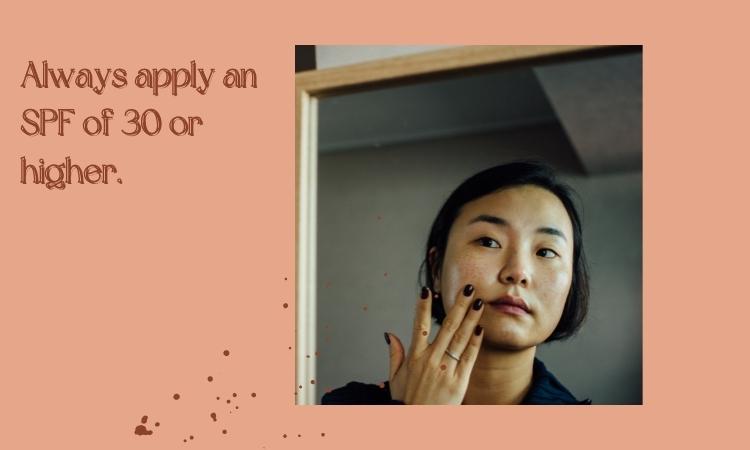 Ingredients that help treat hyperpigmentation
Several products can help treat an uneven skin tone. First, having a perfectly balanced diet and eating plenty of leafy greens and fresh fruit will always be beneficial. However, these ingredients typically contain beneficial properties:
Vitamin C: protect against sun damage and reduce the formation of melanin.
Glycolic acid: works to remove dead skin cells to reveal healthier skin underneath. Some research indicates that it may reduce acne, scarring, melasma, post-inflammatory hyperpigmentation, and sun-related aging.
Salicylic acid: may be especially beneficial for post-inflammatory hyperpigmentation due to its anti-inflammatory effects.
Retinol: Increases cell turnover to speed up the generation of healthy, new skin. It can improve an uneven skin tone and reduce the signs of sun damage. In addition to treating pigmentation disorders, retinoids can also help with skin aging.
Niacinamide: reduces inflammation to stop flushing associated with acne and other skin conditions. It may also help treat hyperpigmentation and improve signs of aging.
Peony Root Extract: helps enhance clarity and luminosity.
Licorice Root Extract: helps improve clarity within skincare formulas.
White Birch Extract: known to help prevent future dark spots and skin discolorations within some procedures.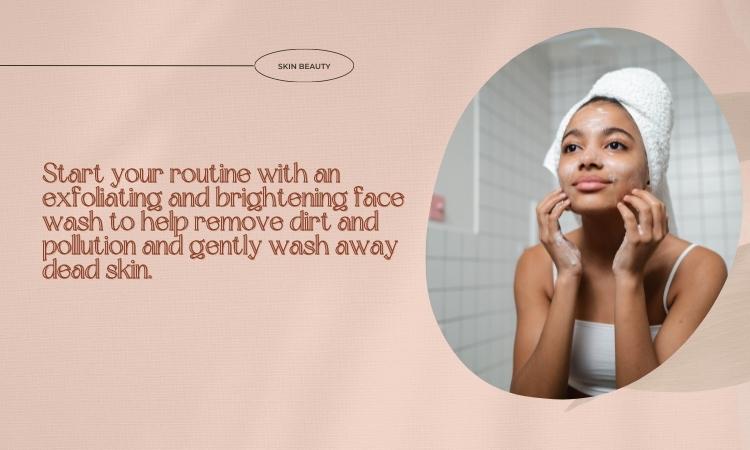 How to use the correct products to treat hyperpigmentation
There are fewer options for the treatment of hypopigmentation in comparison to the treatment of hyperpigmentation. Treating hypopigmentation may involve the use of topical prescription medications, as well as light or laser treatment. Start your routine with an exfoliating and brightening face wash to help remove dirt and pollution and gently wash away dead skin. Then use soothing treatment water and target discolorations with a facial serum for dark spots and hyperpigmentation. Finish out your routine with a skin-brightening moisturizer. Use sunscreen to defend the skin from the sun's harmful UV rays. Finally, turning to dermatological procedures will be the fastest way to eliminate hyperpigmentation. Chemical peels, laser therapy, microdermabrasion, or dermabrasion are all options that work similarly to rid skin of hyperpigmentation.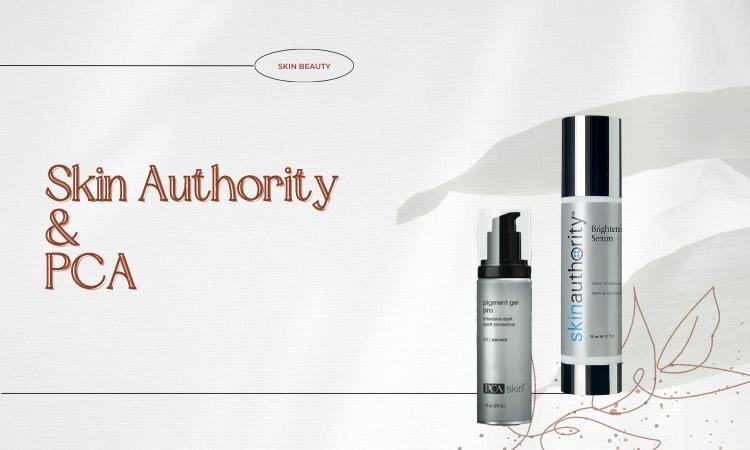 Skin Beauty recommends these products to help treat hyperpigmentation:
Skin Authority
Skin Authority Brightening Serum is a naturally produced lightweight spot topical treatment that helps oligopeptides and AHA exfoliators to assist even out skin tone and fading spots and smoothing texture for skin that is clearer and more glowing.
Benefits:
It helps fade spots, freckles, and splotches aggravated by hormones, sun, or UV exposure.
Naturally derived brightening agents.
Allows hydrates skin for a softer, smoother texture.
Safe to use while pregnant or nursing.
PCA Skin
PCA Skin Pigment Gel Pro is for all Fitzpatrick's and skin types; see a visibly dramatic reduction in stubborn hyperpigmentation.
Benefits:
Provides a highly apparent reduction in the appearance of persistent hyperpigmentation.
It helps fade the appearance of dark spots and patches while preventing new ones from forming.
It's a light-diffusing cream combating UV and hormonally-induced hyperpigmentation, such as photodamage, melasma, and skin discoloration.
For all Fitzpatrick and skin types, it's effective.
Though there are many prescription creams, aloe vera, topical creams, organic acids, natural ingredients, and other treatments that can be used as home remedies for your face to your whole body to restore skin pigmentation, our rule of thumb is to avoid chemical peels unless directed by a licensed professional. It is always in your best interest to look into potent skin depigmenting agents or laser treatment if you suffer from a rare disorder or longer-lasting hormonal changes. Simple prescribed medications may also interfere with skin discoloration if you have a history of laser therapy or take birth control pills. Ask your dermatologist before trying any home remedies that you are unfamiliar with.
Recent Posts
Have you ever wondered what age spots are and why they appear? Age spots, which may be either brow …

Are you a green tea lover? People drink green tea on the daily basis for many reasons, including …

The internet is abuzz with the latest skincare trend: skin cycling. If you're not familiar, skin …