Let's set off on a spa journey where we discover the good, the great, and even get down to the nitty-gritty of professional facials. Have you had one? If not, you are missing out. When we talk about a spa, I notice people immediately inquire about massages but there is never the same amount of buzz for facials. Let me be the first to shout it out, facials are amazing! Life-changing! Have you scheduled one yet? We are familiar with keeping up on our health whether that be yearly doctor, dentist, or chiropractor visits. I am here to tell you your skin health is important and worthy of "checkups". There is no doubt that a professional facial should be added to your healthy living to-do list. As we maintain other aspects of our health it is going to be beneficial to keep up with our skin health. There are many avenues where we can take care of our skin, the first, is a dermatology office. Here they can focus on skin concerns such as concerning moles and growths, or preventative aging. While medical spas can treat unwanted hair and advanced issues with acne and aging. Today we will talk about the benefits of professional facials in a spa setting. Are you on a facial schedule already for 4-6 weeks of maintenance, maybe you have never had one, have a gift card that is at the bottom of your purse? I can tell you working in the spa industry for over ten years it is still shocking to hear someone say they have never had a facial. However, it is also incredibly rewarding at the same time to watch their reaction when they realize what they have been missing out on. Facials are not created equal so it is important to find a spa and esthetician (your new skincare advisor) who will provide the environment and experience you are hoping for.
Facials- They are not all created equal
When searching for a place to receive a facial you can go a few ways. If you are concerned about unwanted hair, skin tags, moles, persistent acne, deep lines, a medical spa may be the best route for you. Do you want to relax and have your stress fade away while still getting a deep clean? A spa is probably a great start! As soon as you walk in you will probably notice the ambience. Most spas will offer muted lighting, soft music, and calming scents. Your stress will fade away as soon as you enter the treatment room. Your esthetician will have you fill out a consult form to understand if there are any skin concerns you have, what types of products you are using at home, any medical issues, and what your goals for the treatment are. It is important to let your esthetician know exactly what you would like your session to look like. This can include relaxation, maybe you have had a stressful week and want to relax for an hour or 90 minutes (no one's judging you!) You can also have goals like reducing breakouts and blackheads or increasing hydration in your skin. Whatever the case may be it will be important to work together with your esthetician to customize a treatment plan for you. This is the most efficient way to receive a great service. After your service, it is important to find out any product suggestions and what frequency you should stick with for glowing skin. Your esthetician will provide you with knowledge either during or after your facial so you can maintain great skin at home, as well as in between facial treatments.
What Are The Steps to a Facial?
As each esthetician and facial can differ, of course, the steps can too. In most facials, you will see most if not all of these steps below.
Cleanse
Steam
Toner
Exfoliation
Extractions
Massage (Hand, Foot, Scalp, Shoulder, Face)
Mask
Modalities (This can include, High frequency, Rollers, Red light, or microcurrent)
Moisturizer
Eye and Lip Cream
Who Would Benefit From Receiving a Professional Facial?
Everyone and I mean everyone, can benefit from receiving a professional facial. A spa will normally have a menu designed for individual concerns or skin type, this can include things like acne, anti-aging, and dehydrated skin. They might also include a facial for teen skin where a teen struggling with breakouts will learn about the importance of cleansing and will be given education during the facial to use at home. A men's facial may focus on exfoliating the beard area and treating ingrown hairs if necessary. But what if you do not have any skincare concerns? You can still get a facial and should! You can never have enough hydration, especially during seasons where your skin can feel extra dehydrated. Facials will cover cleansing, exfoliating, extractions, and hydration but probably the best thing about a facial is the relaxation and massage.
The Power of Touch
I know so many people who have had a manicure, pedicure, massage, but when it comes to a facial people can sometimes be cautious. Think of a facial like an hour massage treatment for your skin. Not only does it feel good, but it works wonders for the skin, adding hydration or nutrients that your skin may be lacking. During a facial, not only will you receive beneficial product application to help soothe skin and appearance, but you will also receive a refreshing massage on the face, neck, shoulders, and scalp. The importance of touch is pretty powerful, in a facial, the massage portion will not only allow your skin to glow from the manipulation of fine lines and wrinkles, but it can also improve sinus pressure, and blood flow.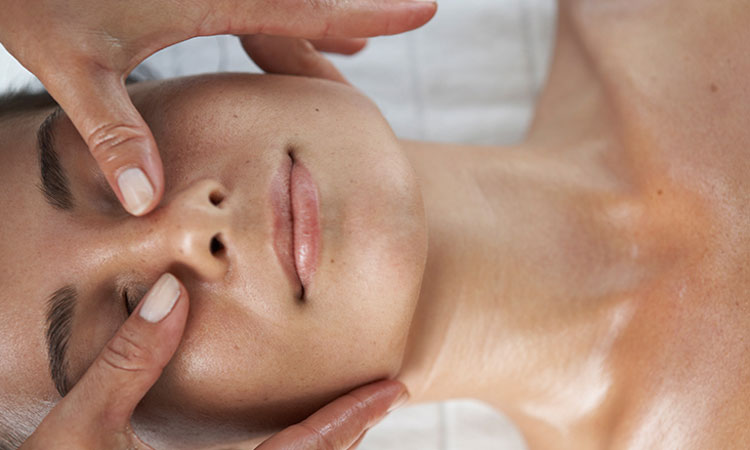 How Will My Skin Benefit From a Professional Facial?
Increased hydration through a serum or mask.
Deep cleanse to remove impurities will shrink pore size.
Increased blood flow and lymphatic drainage.
Relief of sinus pressure and tension.
Mechanical or chemical exfoliation will remove layers of dead skin cells.
Signs of aging will diminish while collagen production is boosted.
Breakouts and excess oil will be reduced.
Skin will be rejuvenated while stress is lowered.
Can I Give Myself a Facial at Home?
Well, here is the deal, you can, and you should be doing maintenance of your skin at home. While it may be easier to perform maintenance at home, it is best to still let a professional assess your skin monthly. It is recommended to receive a facial at least 4-6 weeks for maintenance but of course, everyone is different. It will be best to talk with your esthetician and come up with a plan for continuing visits, some people may find that more often or less often is beneficial for their skin type. At a spa, your skin will go through a mini workout and you will be getting exfoliation and hydration that you can feel for days later. The best way to keep these results is by investing in quality ingredients for your skin for at-home care while also getting plenty of rest and drinking the appropriate amount of water for your body type. A healthy lifestyle overall will help with the appearance of your skin for now and years to come. So, the next time the holidays come around and you receive a gift card to your favorite spa try giving a facial a try. Facials make great gifts as well, for that hard to buy for person in your life. I truly hope you discover the wonderful benefits facials can have on your skin. Below you will find our favorite at-home care for in-between visits.
Recent Posts
What is a Micro-Peel?Micro-Peels have soared in popularity due to their quick recovery time, effecti …

What does CoolTone look and feel like?An FDA-approved CoolTone treatment uses Magnetic Muscle Stimul …

Living with oily skin can be a confusing problem. For example, using a face wash can feel pointless, …