Pumpkin Facial, Pumpkin Peel, Pumpkin Masks and more!
Learn more about this delicious and powerful secret ingredient
Looking for a way to soften your skin and have glowing skin this fall? Pumpkin is known for more than just pumpkin spice latte, pies, and candles. If you're looking for a festive way to pamper yourself, give a pumpkin facial treatment a try.
Pumpkin has an incredible amount of beauty benefits. During the fall time, the cooler weather can dehydrate your skin. The sun damage from the hot summer months can cause your complexion to look dull. If your skin needs a radiant and glowing treatment, a pumpkin enzyme facial is your answer. Read this article to find more information regarding pumpkin facials as well as their use in skincare.
All about the Pumpkin Facial:
A pumpkin facial works the same way as traditional treatment, but with the bonus added benefits of pumpkin. Generally, cleansing comes first, pumpkin peel or pumpkin face mask and next comes steaming to help soften up any pore-clogging congestion, followed by gentle exfoliation, extractions, massage, soothing mask, and finally toner, serum, moisturizer, and sunscreen. This treatment includes classic facial steps combined with a pumpkin mask or peel. Step orders sometimes differ for the facials and peels.
In the treatment room you also have professionals working on your skin so questions and aftercare will be reviewed. Depending on where your receive this facial. Many places such as spas and even medical spas offer these services. Estheticians love performing these pumpkin facials because of the immediate results.
All about the Pumpkin Peel Facial:
A pumpkin facial works the same way as traditional treatment, but with the concentrated Pumpkin Peel. This is a more natural alternative compared to other chemical peels. Not as strong as medical grade peels that you see visible peeling. People with sensitive or reactive skin will likely feel activity from this peel.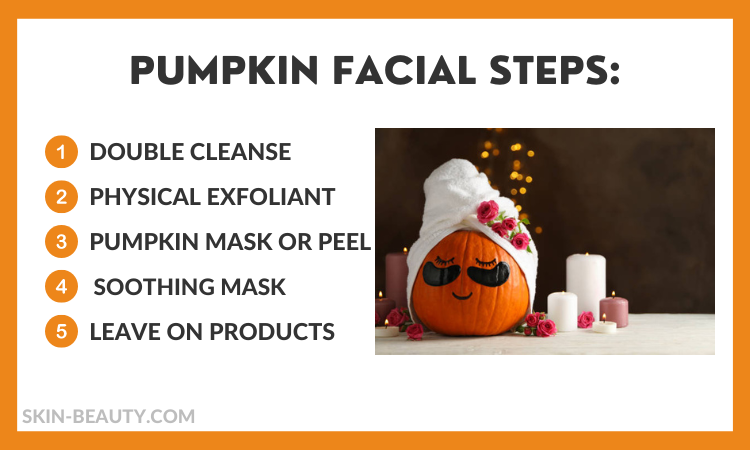 Who can benefit from this facial?
Pumpkin facial benefits all skin types and many skin concerns. People with skin concerns such as aging, dryness, dull complexion, hyperpigmentation, and uneven skin tone can benefit. If you are suffering from acne, depending on what other acne products you use at home and what grade of acne you have you might not be able receive a pumpkin facial. Although it does help reduce acne and lighten the appearance of dark spots/scarring.
Who should avoid this facial?
Those with sensitive skin will feel that the ingredient is too active and tingly. People who are prone to redness or have rosacea might want to skip out on this facial. Anyone whos gotten sunburnt, waxing or any other cosmetic procedures done.
The best time for this facial:
Fall or winter time. Since a pumpkin facial or pumpkin peel facial contains powerful enzymes, avoiding the spring and summer time would be safest due to the sun damage that can happen. Using sunscreen consistently after treatment and stay indoors. Sun exposure after a pumpkin facial or pumpkin peel facial is usually not advised. When you feel like your have congested pores, dry skin and a dullness is a great time to receive a facial although monthly facials are recommended.
Pumpkin Facial or Peel Aftercare:
Just like any other facial a there is basic guideline to follow. Here are a few key aftercare instructions.
Avoid putting on makeup or other facial products for at least 6 hours after your treatment.
Avoid picking at your skin or using abrasive skincare products like scrubs or chemical exfoliants for at least 72 hours after your treatment.
Stay away from direct sunlight or heat for up to 48 hours after your treatment.
Avoid steam and soaking your face in water
Do not undertake any other facial skincare treatments or waxing or other cosmetic treatments within 48 hours of having a facial.
Key Benefits of Pumpkin:
With so many benefits, this multitasking ingredient is the perfect choice to incorporate into your weekly routine. Listed below are masks you can use in your skincare routine.
Deeply hydrates and plumps the skin great for dry skin. You'll also see more moisture retention because it increases skin hydration. Balances the moisture levels in the skin. Infuses the skin with bioflavonoids that aid in the absorption of skin-friendly vitamins. Delivers beta carotene, amino acids, and fruit enzymes to the skin.
Pumpkin has Vitamin C which helps overall complexion and pigmentation. Thus brightening and showing luminosity on the skin. This antioxidant rich pumpkin also helps brighten skin plus protect from environmental stressors.
Has Vitamin A which helps Improve blood circulation and helps you accelerate the skin cells regeneration process. Which leads you to more active cell turnover. Helps to improve the clarity, texture, and smoothness of the skin. Clearing blackheads and congestion in the skin. Stimulates collagen production to reduce the appearance of fine lines and softens wrinkles. It helps with skin elasticity and tightens the skin.
Naturally exfoliates the dead skin removing dead skin cells. Pumpkin contains powerful AHA enzymes. This helps any texture and leaves you with smooth skin. Helps clear blackheads and congestion in the skin. It purifies and shrinks the look of your pores.
The Power of Pumpkin: About the Ingredient
Pumpkins are rich in phytonutrients, antioxidants, and enzymes. It consists of vitamins A and C, zinc, potassium, anti-oxidants, and Beta-Carotene which makes it a free radical fighter. Pumpkin contains powerful natural enzymes, such as alpha-hydroxy acids (or AHA's) which promote healthy skin cell turnover. It will also boost your collagen production. Collagen is one of the most powerful anti-aging proteins and will keep your skin youthful. Vitamins C and A will make your skin smooth and soft, and those fruit nutrients will nourish your skin and boost your overall health.
For those with acne, pumpkin seeds contain zinc, which helps to regulate your hormone levels and oil production. Pumpkin seed oil is extracted from pumpkin seeds which also helps reduce inflammation. This will also help your skin heal after acne damage. With many diverse pumpkin benefits is the reason why its added into skincare.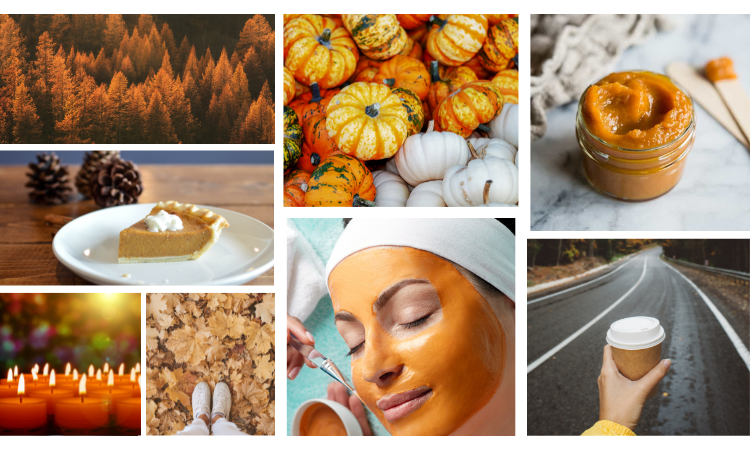 Why a DIY pumpkin mask is not recommended:
DIY skincare and masks, while they seem harmless, can be harmful to the skin. They are comprised of natural ingredients, but it's not the same as the ingredients you find in professional skincare products. For example, the Vitamin C in pumpkin can be acidic. Throwing off your skins' natural pH in such a large measure is harmful to the health of your skin. The concentration is going to be higher in professional products compared to pumpkin puree. This is true for all other natural ingredients that DIY skincare requires. Well, think about everyone who handles the fruit, the pesticides on the produce, or the possible food allergens they were shipped with. A quick rinse at home is not going to wash all the bacteria and chemicals away. Ingredients in professional skincare products are carefully chosen and tested/mixed in sterile laboratories, by professional and qualified chemists.
This is something that we simply don't have access to at home. To add to this, DIY skincare is unstable. What I mean by this is the lack of preservatives in at-home skincare. This is not necessarily true when it comes to skincare. Preservatives are added to make our products stable and last. You risk germs, bacteria, and mold growth as soon as you mix the concoction together.
How to use a pumpkin product at home:
Start with cleansing your skin with a gentle cleanser. Making sure you have clean skin with no left over makeup or dirt.
If your skin can handle physical exfoliation do this next. This starts the exfoliation process and will help the product sink in deeper in the skin. Avoid neck, around eye area, sides of the nose and around the mouth. Remove all the product and pat dry.
Apply your favorite pumpkin face mask (Product recommendations down below) Don't forget your neck area. If you have more sensitive skin avoid neck, around eye area, sides of the nose and around the mouth. Follow the directions on the mask product on how long to use it. Remove with warm water or a damp towel.
Pumpkin Facial Mask you can use at home:
This powerful, triple-action manual, chemical and enzymatic exfoliating treatment addresses a dull, aging, and congested complexion in three ways: exfoliates with Pumpkin Enzyme, reveals with Alpha Hydroxy Acid and polishes with Aluminum Oxide Crystals. Helps even the appearance of skin tone, smooth the look of fine lines and wrinkles and clarify to reveal skin that looks smoother, younger, radiant and revitalized.
Restore your skin's natural moisture balance with our Pumpkin Latte Hydration Masque. Vitamin E and Omega 9 nutrients combine in this dreamy puree of fresh pumpkin to fight the appearance of aging and environmental stress on your skin.
This 100% natural pumpkin enzyme reduces surface build-up, provides antioxidant support, and works as a mild exfoliant. Pumpkin Parfait Enzyme leaves skin with a smooth, polished feel while the delicious pumpkin pie aroma tantalizes the senses. The all-natural vegetable enzyme is enhanced by an unusual freeze-drying process, mimicking glycolic acid properties.
A brightening treatment mask that dissolves impurities and dead skin cells while encouraging healthy skin renewal. A targeted blend of organic fruit enzymes, humectants and antioxidants helps decrease the appearance of fine lines and wrinkles, hydrates and refines the skin.

Recent Posts
Have you ever wondered what age spots are and why they appear? Age spots, which may be either br …

Are you a green tea lover? People drink green tea on the daily basis for many reasons, including …

The internet is abuzz with the latest skincare trend: skin cycling. If you're not familiar, skin …