The process of incorporating all your new skincare products into a routine can be overwhelming and confusing. Does the toner go after the serum? How do you know if the order in which they're applied matters? To get the best results for your skin, you must use your products correctly. The purpose of your skin is to keep things out, and many key ingredients in skincare don't penetrate the skin at all. So by applying the products in the correct order, you are making sure that your skin is absorbing those essential active ingredients and making the most of your routine.
TIP: Wait 5-30 min before applying the next step so that each product has enough time to sink into the skin.
Skincare experts advise giving your products enough time to absorb into the skin, but what happens if you're in a rush? The answer is to minimize your routine and stick to the basics. Cleanse your face and apply your serum afterward. Leave your moisturizer by your bedside and use it right before you go to bed. This way, you won't forget, but you give your skin time to absorb the serum. Sometimes it's best not to overcomplicate things and stick to the basics, but remember that each person's skin is different, so maybe you need more products in your routine, or perhaps you don't.
So it's time to apply all your skincare products; which ones go first? The basic rule is to use products according to consistency; for example, runnier vs. thinner products have a certain order, toners, and essences (they go first), and you end with your heaviest or thickest products moisturizer or SPF. BUT you should also apply products according to the active ingredients that are most important to penetrate the skin, like serums and antioxidants. A morning skincare routine should focus on protection from the sun, pollution, and elements. For the evening, it's best to use your more intense treatments like retinol, peel pads, etc.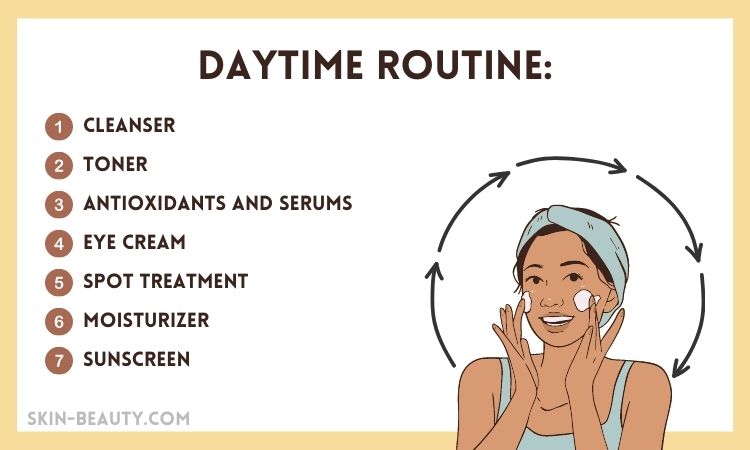 Daytime Routine
Step 1: Cleanser
Start your day off cleansing your skin with a cleanser appropriate for your skin type.
Step 2: Toner
Toners were created to help restore the skin's PH level, especially after using hard water or harsh cleansers. Modern cleansers are more balanced, so toner may be something you don't need in your routine. If you haven't been using a toner and your skin looks great and healthy, then it's not necessary to start now. However, if you use a toner, remember to use one tailored to meet your specific needs.
Step 3: Antioxidants and Serums
Serums are a great way to get all the essential nutrients and vitamins you need in one product. In addition, serum-based treatments can provide your skin with natural protection from UV rays, environmental pollutants like exhaust fumes and offer anti-aging properties.
Step 4: Eye Cream
You should apply an eye cream at least every night—if not twice a day-- to keep the skin around your eyes healthy. It's best to start using eye creams in your 20's to give the skin enough time to maintain its elasticity and help prevent fine lines and wrinkles.
TIP: Apply SPF for further protection and remember to wear sunglasses to protect the eye area when you're out in the sun.
Step 5: Spot Treatment
Spot treatments and acne medication need to be applied directly to the skin to be the most effective, meaning without extra layers of skincare in between the treatment and your bare skin; it may not be as effective. But because each treatment contains different ingredients and percentages, it is best to speak to your dermatologist to learn the best way to apply it. This is especially important because most treatments have a working period, and using any creams on top of them may inhibit the active ingredients from working correctly.
Step 6: Moisturizer
Everyone needs a moisturizer, yes, even if you have oily skin. However, the sooner you apply your serum and treatment, the better. Experts recommend that if this is done right after showering or bathing (while skin is still damp), it will be easier to lock in much-needed hydration with a moisturizer.
TIP: If you have a spot treatment or applied acne medication, apply your moisturizer around those areas.
Step 7: Sunscreen
Your skincare routine should end with an SPF application using physical or mineral sunscreen. If you prefer to use chemical SPF's there are some things to keep in mind. Chemical sunscreens have to absorb into our skin to work, and if you apply a chemical SPF after moisturizer can delay absorption and, therefore, effectiveness. If chemical sunscreens are more convenient for you, try finding one that also has hydrating properties.
Nighttime Routine
At night, your skin starts to repair itself. This makes it an ideal time for giving your skin the treatment it needs.
Step 1: Cleanser (Double Cleanse)
If you wear makeup, use a makeup remover to remove the excess dirt, grime, and makeup on your face. It is also recommended to double cleanse to make sure the skin is clean. This means using a cleansing oil to dissolve the makeup and following up with your regular cleanser. If you don't wear makeup, you can use your regular cleanser or micellar water on a cotton pad, wipe the skin, then wash your face.
Step 2: Toner, Essence, or Booster
Some people like to layer various skincare boosters, which you'll see as mists, essences, or beauty waters. These are infused with different active ingredients, but for the most part, their purpose is mainly just to hydrate and nourish the skin. In addition, they usually come in lightweight formulas, so they can be applied right after washing your face.
Step 3: Eye Cream
Eye creams can serve an extra function in your skin care routine beyond just addressing crow's feet and dark circles. They protect the delicate eye area from other products you might use on yourself, such as moisturizers or face masks with strong fragrances that could irritate it if applied.
Step 4: Peels, Treatments, Serums
Every night, your skin repairs and regenerates while you sleep. This is why it's important to use treatments like prescription meds (tretinoin), retinol creams, exfoliating treatments, or anti-aging serums that contain ingredients such as peptides in the evening when our face needs them most. Try to choose your evening treatment depending on your skin's needs at that moment in time. Layering too many products can cause your skin to become irritated and won't give you desired results.
TIPS:
Using either a medicated treatment (acne treatments) OR exfoliative treatments (AHA/BHA pads, detoxifying masks, peels) using both or a mixture of many can increase the chance of skin irritation.
Do not mix exfoliative treatments with retinol creams. Alternate nights if you wish to get benefits from both.
Use exfoliative treatments 1-3 times a week, not every day.
Step 5: Moisturizer or Night Cream
The difference between a moisturizer and a night cream is that night creams tend to be thicker and are meant to be absorbed over several hours (while you get those zzz's). Thicker moisturizers create a protective layer that prevents water from evaporating while you sleep. Having hydrated skin is essential to maintaining healthy skin. This makes it the perfect final product to add to your routine.
TIP: If you have dry skin apply face oil before applying your night cream.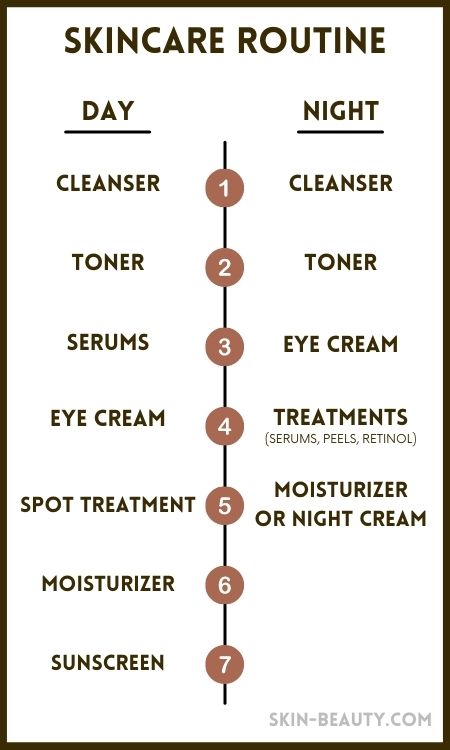 Recent Posts
Expecting overnight results from skincare will set you up for disappointment. Makeup offers a quick …

Dry shampoo can be a life-changing hair product if you use it correctly. Dry shampoo is a beauty sta …

Dark under-eye circles sneak up on you, and before you know it, they significantly impact your life. …