Today's post is about the amazing benefits of pomegranates.
Pomegranate is a very staple ingredient in the skincare industry as it has a plethora of benefits and might really make all the difference to the feel and look of your skin. Pomegranates are super-fruits. They have a variety of health benefits due to their high level of phytonutrients and antioxidant properties.
It's best utilized in more ways that one. Topical application, eating the veggies and drinking pomegranate juice all will help to enhance your skin. Lets have a look at the numerous ways where pomegranate works to improve the quality of your skin.
1. Prevents and Heals Skin Damage
The nutrients that pomegranates provide for your skin helps heal those with compromised skin barrier.
Pomegranate is packed with anti-oxidants, meaning that it'll provide not only nutrients for your skin but it'll prevent skin damage that's caused by the free radicals. Pomegranates contain vitamin c which is great to pair with your SPF. It boosts your SPF effectiveness which protects you from possible skin damage.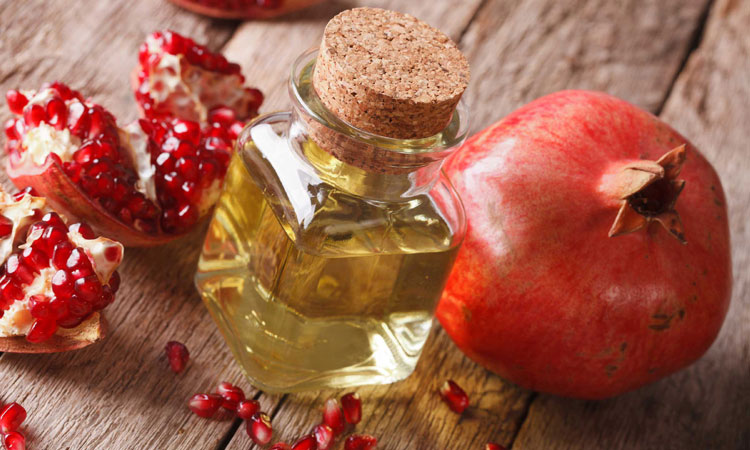 2. Intensely Hydrates The Skin
Pomegranate works as a fantastic moisturizer for your skin, making it feel smooth soft and supple.
Since pomegranate oil penetrates deeply into the skin, it is effective for treating dry skin. Pomegranate seed oil works as the ideal moisturizer and rejuvenator for the skin. It soothes dry, cracked, and irritated skin. It contains punicic acid, an omega 5 fatty acid that hydrates and prevents moisture loss.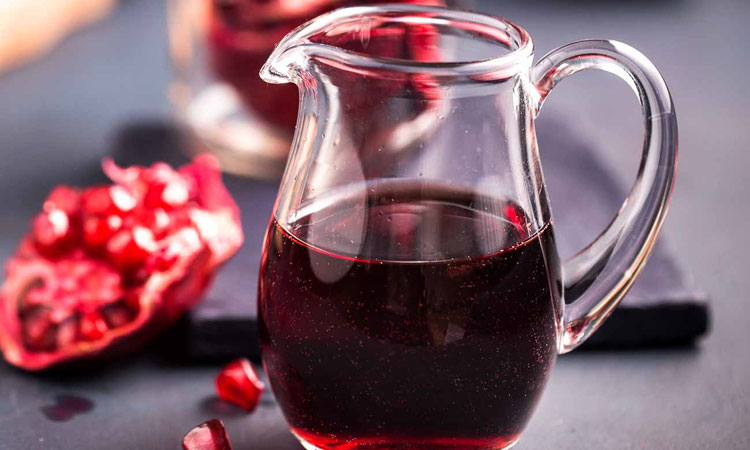 3. Soothes and Heals Acne
Pomegranate is also very beneficial for acne-prone skin. It aids with skin cell regeneration in the epidermis and dermis (inner layer), increasing circulation and healing the skin, aiding in tissue repair and wound healing. Which is perfect for those who are in the process of healing acne.
A rich source of Vitamin C helps control excess sebum production, which is a common characteristic amongst those with acne prone skin. When oil, dead skin cells, and bacteria clog the follicles, sebum can't escape the pores. This leads to acne. Internally pomegranate has the ability to help with digestion issues and hormonal imbalances, detoxifying acne-prone skin. Many cases of acne are caused by hormonal imbalances.
Topical application of pomegranate work wonders to clear up breakouts and scars and soothe the skin. Pomegranate seeds contain strong anti-microbial and anti-inflammatory properties, hence effectively soothing skin inflammation and treating a host of skin conditions like eczema and psoriasis.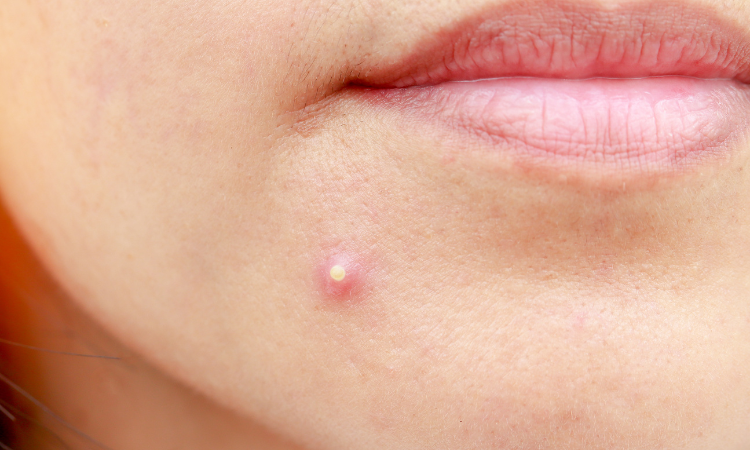 4. Prevents Premature Skin Aging
As we age some characteristics such as fine lines and wrinkles, dryness, age spots start to arise. Our cell regeneration starts to slow down. Not only does Pomegranate serve as a preventative measure, but it also encourages cell regeneration. In addition to this, its antioxidants such as anthocyanins, ellagic acid, and tannins make pomegranates one of the best protectors from free radicals that are responsible for much of the aging process. If you apply it topically or consume the fruits, pomegranate is ideal for boosting collagen production in the skin, thus rejuvenating it and restoring its youthful plumpness and elasticity.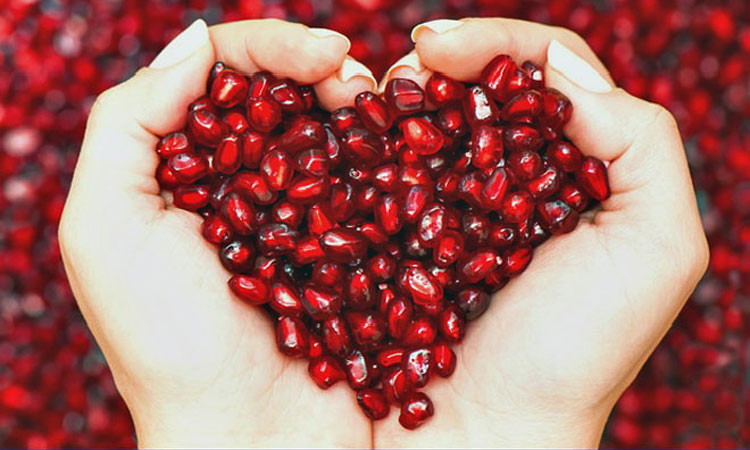 5. Helps brighten skin
Not only does it contain about 48% of the daily vitamin C we need, that vitamin c acts as a brightening ingredient that will give you radiant and youthful look. Many suffer from hyperpigmentation, uneven skin and sun spots. Applying products containing that will help lighten and even out those areas. Research has proven that vitamin C can reduce the production of melanin, which is what gives skin its color. This means it can help decrease dark spots and hyperpigmentation while also giving your skin a brighter look overall. With regular use, you may see results in no time!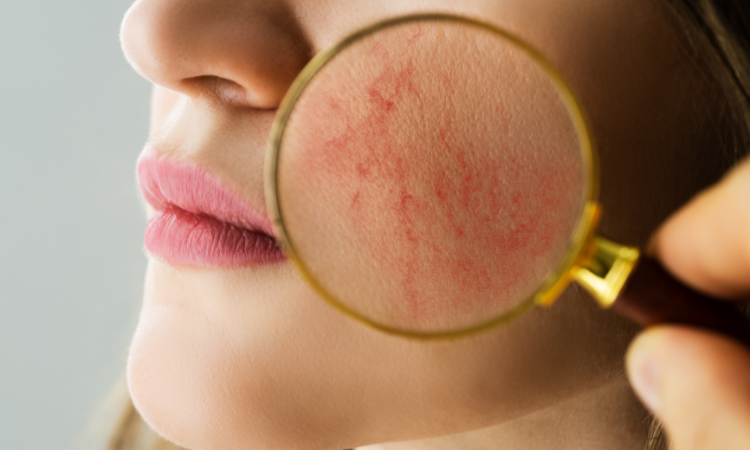 Pomegranate is Also Perfect for Burns, Wounds and Healings Scars on the SkinWith the aforementioned skin benefit, pomegranates (in the shape of the fruits, juice, seeds and seed oil) are extremely beneficial for the hair as well.
Helps acne prone skin with soothing inflammation and aids in healing.
By protecting us from premature aging, we can preserve our youthful and radiant glow for as long as possible.
Searching for a vitamin c to incorporate into your skincare routine? Look no further than pomegranate – it's the perfect solution to help brighten and energize your skin on a daily basis!
Deeply moisturizes your skin and hair, gets rid of frizz and strengthens to give you glowing healthy skin and hair.
Aside from its many skin and hair benefits, pomegranate is a superfood that we must incorporate in our diets to prevent the onset of many diseases and diseases. Pomegranate helps fight cancer, improves bone tissue health, controls cholesterol, boosts immunity, and a lot more.
It's a must-have fruit in your diet along with your beauty routine!
Pomegranate Skincare Recommendations:
Skin Beauty Organics Pure Pomegranate Toner - a breakthrough product that combines the power of pomegranates with effective skin care. Packed full of antioxidants, polyphenols, and other phytochemicals, this toner is designed to restore your skin's pH level while reducing signs of aging and protecting you from sun exposure. Efficiency is key in transforming your skin into its best self - that's why this organic toner contains punicic acid (Omega 5 fatty acid) to ensure maximum cell regeneration and production. Pamper yourself with a nourishing dose of instant perfection made from natural ingredients. Embrace the unique properties of pure pomegranate toner and treat yourself to an unparalleled beauty experience. Restore your glowing complexion today with our top-tier formula for younger-looking skin!
Eminence Cranberry Pomegranate Sugar Scrub (All Skin Types) helps to refine the silhouette and melts away dryness and roughness. It is formulated with Cranberry which is rich in Vitamin C and antioxidants, Comfrey for its calming effects, Butcher's Broom to help skin appear firmer, Sweet Almond to soften and nourish, and Grape Seed Oil to increase elasticity and fight against signs of aging. This hydrating skin polisher nourishes skin with vitamins and nutrients. The skin is left feeling soft with a lustrous radiance.
Skin Script Pomegranate Antioxidant Creamy Cleanser is a creamy pomegranate cleanser targeting for normal to dry skin. Featured with aloe vera and pomegranate extract, it nourishes and hydrates the skin while restoring and protecting the skin. Due to a wide array of antioxidants, nutritional elements, and oils, it calms and provides anti-inflammatory-like benefits. Skin Script Pomegranate Antioxidant Creamy Cleanser brings the skin to life giving it a healthy, radiant glow.
Pomegranates contain antioxidant-rich ellagic acid and polyphenols to support healthy skin tone and texture. This supercharged fruit offers an effective solution for mature and aging, dry skin. The rich benefits of Pure Revitalizing Pomegranate Serum will actively aid your skins own ability to regenerate itself, and help reduce signs of aging while deeply moisturizing.
Recent Posts
Are you a green tea lover? People drink green tea on the daily basis for many reasons, including …

Today's post is about the amazing benefits of pomegranates. Pomegranate is a very staple ingred …

We are giving away 2 FREE Customized Skin Routine Consultations. The 2 winners will be randomly chos …