In the last decade,Growth Factors have been lately considering as the king ingredient for anti-aging, anti-oxidant besides retinol. Many studies and researches have proven that Growth factors play an important role in skin rejuvenation since they help reduce the appearance of wrinkles, brightening your skin, decreased sagginess, and improved more youthful texture.
All questions regarding Growth Factors like What are growth factors? What do they do for your skin? Are growth factors for skincare safe? What are the benefits of Growth Factors? Where are growth factor products from? What Growth Factors products are suitable for you, will be explained and answered in this article.
What are Growth Factors?
Growth factors are naturally found through your body. They are large proteins that float between cells communicating messages, relevant skin cell regeneration, and healing. Growth factors could be derived from stem cells found in plants, animals. Their primary responsibilities are to repair damaged skin by regenerating new skin cells, make skin more firmness and elasticity.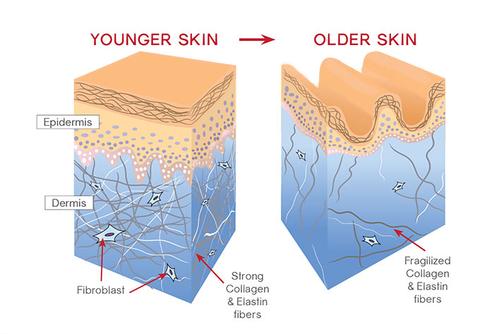 All wrinkles, dark spots on the skin need growth factors to maintain and give healthy skin. Unfortunately, our body or cell specifically makes fewer growth factors as we age. Skincare or supplements with a high concentration of growth factors will help skin rejuvenation by stimulating collagen production and give young and glowing skin.
Are Growth Factors in Skincare Safe to Use?
For the past years, there is still a huge controversy and lot confusion in using Growth Factor for skin treatment. We all know that Growth Factor is from human cells, so the questions are how alternative growth factors mysteriously work for skin treatment? Is it safe to use Growth Factors skin treatment products? Are still need clear answers.
Let's make it clear. There are no proof growth factor is harmful to your skin and body. On the other hand, many studies and researches have shown that growth factors help to boost collagen production, renew the skin, reduce the fine lines or wrinkles.
Where Do Growth Factors in Skin Care Treatment Come From?
Thank to innovated biotechnology, we have created multiple sources of growth in the past decade. They can be derived from human cells grown in a laboratory (skin cells, bone marrow stem cells, fat stem cells), or extracted from one's own blood from non-human sources such as animals and plants.
Benefits of Growth Factors for your Skin
As we mentioned earlier, growth factors repair your damaged skin by boosting collagen productions and maintain firmness and elasticity in your skin. Moreover, growth factors address multiple aging concerns at once. If we use growth factors every day, help reduce the appearance of fine lines, wrinkles, and improve skin tone and texture.
The main benefits are
Maintaining the skin's firmness and suppleness
Supporting the repair of damaged cells, including collagen and elastin.
Additional benefits are
Adding hydration
Helping the creation of new blood vessels, so adding more nutrients and oxygen to the skin
Increasing immune cell production improving the ability to fight viral and bacterial infections
Growth Factors Products
While growth factors are used by professionals, they can also be found some skincare products without prescription in the form of serums, gels, and moisturizers. However, keep in mind that not all products containing growth factors have the same benefits.
Here are Growth Factors products that have proved safe and effective in fighting aging.
1. Rhonda Allison Growth Factor Serum Plus
Rhonda Allison Growth Factor Serum Plus is an elegant formula designed for healing and moisturizing.The synergy of Shark cartilage with EGF stimulates the skin's memory cells and bolsters its immune system. Rhonda Allison Growth Factor Serum Plus highly increases and enhances regeneration.
2. GROWTH FACTOR GF-9
Growth Factor GF-9 is a novel, patent-pending dietary supplement that promotes pituitary health to encourage your body to produce optimal levels of HGH, youth hormone.Once your body has more HGH hormone lavel, your body will feel the more youthful, stronger, and active body.
Growth Factor-9 is the only US patented, tested by human clinical trial; a scientifically-backed product recommended to support mean, serum HGH levels simply, and safely.Growth Factor GF-9 is the first – and only – non-prescription, non-injection dietary supplement clinically shown to grow your HGH levels up to 682% naturally.
Recent Posts
Having perfect skin tone without freckles, dark spots, or hyperpigmentation would be anyone's dre …

Getting clearer skin may be a challenge for many people. It's frustrating when you're an adult an …

Washing the face is a definite must in your skincare regimen, but is exfoliating? I think I start …