Do you have trouble figuring out your face shape? It's not easy to figure out, like achieving the perfect messy bun or mastering liquid eyeliner. Trust us; we've been there.
Finding your face shape isn't as hard once you know what to look for.
To determine your face shape, we will look at three things:
Widest parts of your face (forehead and cheekbones)
Jawline
Length of face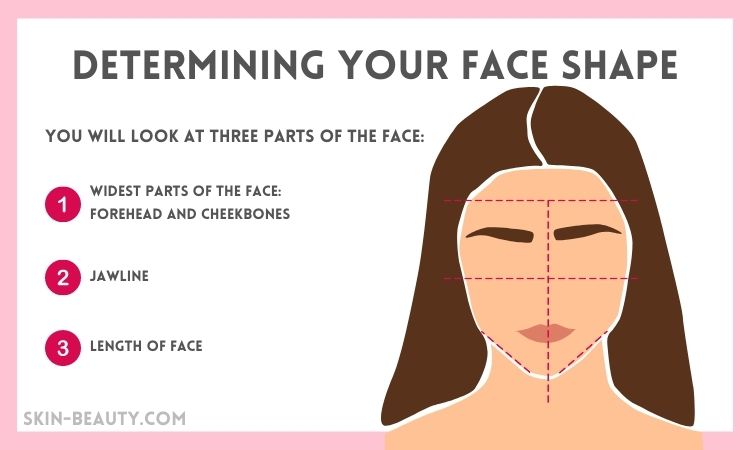 Heart Face Shape Characteristics:
The forehead is typically the widest part of this shape. The chin and jawline are more defined and pointed.
Hair Tips:
Hairstyles that best suit this face shape avoid hairstyles that accentuate the widest parts of the face (forehead and cheekbones). Long layers, pixie cuts, and side bangs can help create width in the jawline to balance your shape.
Makeup Tips:
You can avoid heavy contouring as the cheekbones are already prominent when it comes to makeup. You can use highlight on the sides of your jaw to create more width.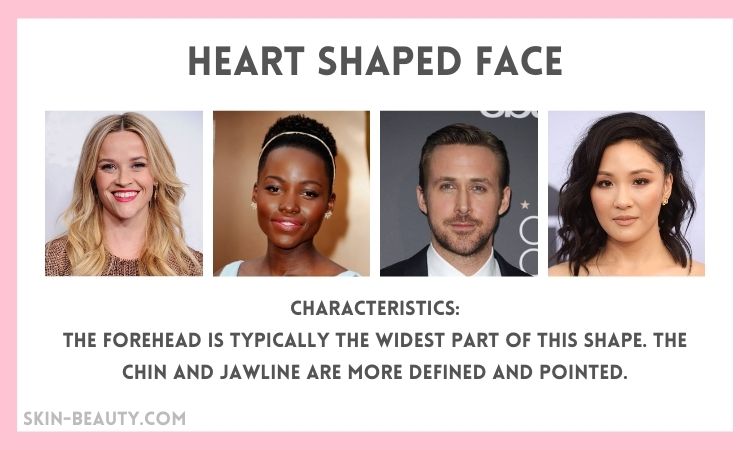 Square Face Characteristics:
Square faces will be straight and won't have a noticeable curve on the sides of the face. The jawline is usually slightly angled, and you also have sharp features, including an angular chin.
Hair Tips:
The best hairstyles for you are ones that create fullness. Fuller hair at the sides will help soften the angles of the face. Opt for layered cuts with textured strands to create a softer look rather than blunt edges, making one's jawline more apparent.
Makeup Tips:
To soften the face contour around the jaw and sides of the forehead.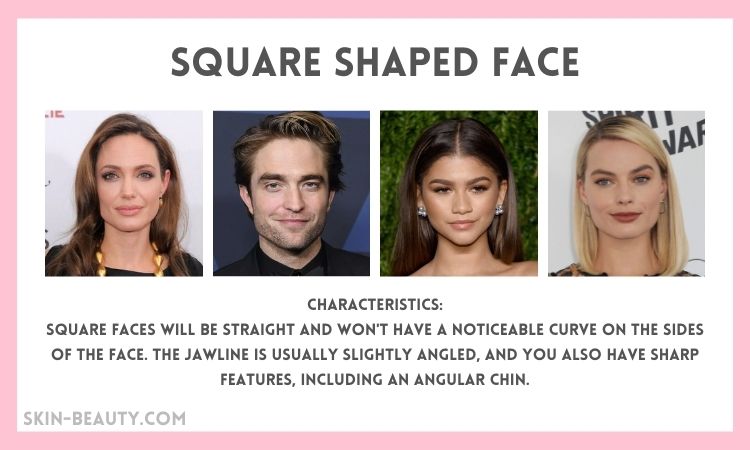 Round Face Characteristics:
The round face shape is like a square with softer angles. The sides of your cheekbones curve slightly outward instead of straight. Your cheekbones will typically be the widest part of your face.
Hair Tips:
Long bobs and soft face-framing layers will look best on a round face shape. Hairstyles with an angular front will help add length to the face. Cuts that create width will only accentuate the roundness.
Makeup Tips:
Contour can be applied on the temples, under the jawline, and along the cheekbones. Apply blush along the cheekbones instead of directly on the apples of the cheek.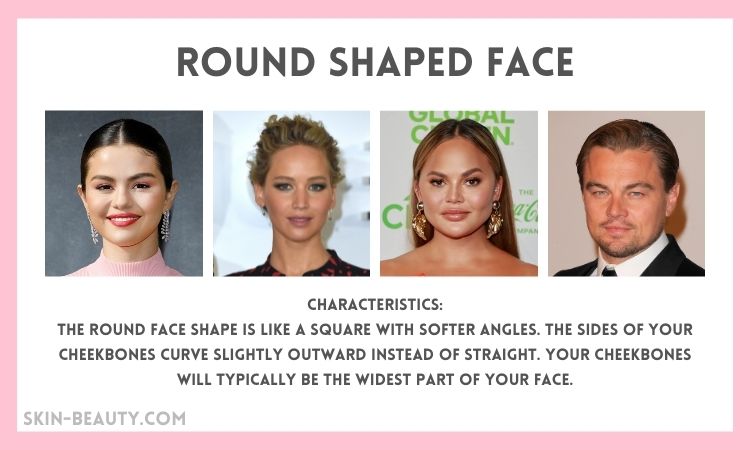 Diamond Face Characteristics
The name comes from this shape's pointed chin and high cheekbones, which form a triangle shape with their jawline being widest at chin level or just past; they also tend to have a narrow forehead.
Hair Tips:
A soft fringe and length will best help soften the angles of a diamond-shaped face, but avoid styles that draw attention or accentuate your jawline. If you're looking for flattering features on this shape, try long layers with textured shags done in side-swept bangs instead.
Makeup Tips:
To create a more balanced face, you can use contour on top of the forehead and under the cheekbones. Apply highlighter along your jawline to help balance your shape even more.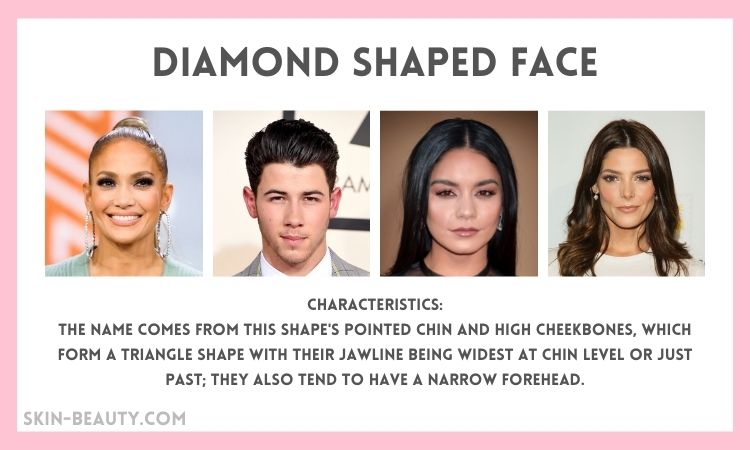 Oval Face Characteristics
Your forehead is only slightly wider than the curves of your chin, kind of like an upside-down egg. If you have a taller forehead, your cheekbones will be the widest part of your face.
Hair Tips:
The best thing about an oval-shaped face is that you can wear any hairstyle. You should avoid adding more height to your hair as it can lengthen the face.
Makeup Tips:
Choose one feature to highlight, like your lips, eyes, cheekbones, etc. Highlighting one feature that balances the face. If you have a more prominent forehead, contour around the temples.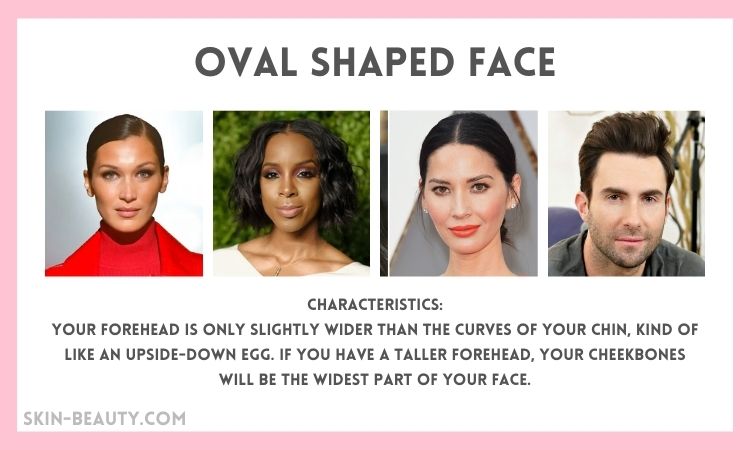 Rectangle Face Characteristics
You may think of the term "oblong" to describe your features, and that's correct. Rectangle faces are longer than they are wider. Your forehead, jawline, cheekbones, and chin have almost identical widths.
Hair Tips:
If you have a square face, the most important thing to remember is that your hair should be fuller around the ears. Otherwise, avoid flat straight hair because it can accentuate the length of your face. However, shorter hairstyles can create more masculinity in shape than longer ones.
Makeup Tips:
Contour around the forehead and under the chin to create the illusion of a shorter face. Blush can be applied to the apple of the cheek to help bring roundness to the center of the face.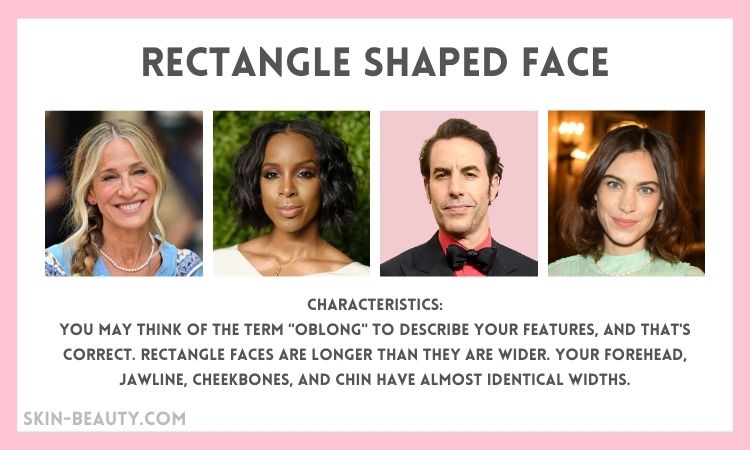 It is important to remember that everyone is different, and you may not feel like you fall into one category alone, and that is okay. This is just a general guide with suggestions. Everyone is unique and has beautiful features that can be accentuated by hair or makeup techniques! Natural beauty is beautiful too!
Recent Posts
Have you ever wondered what age spots are and why they appear? Age spots, which may be either brow …

Are you a green tea lover? People drink green tea on the daily basis for many reasons, including …

The internet is abuzz with the latest skincare trend: skin cycling. If you're not familiar, skin …