When it comes to skincare and building a routine, the majority of us focus on two things, buying products to put in our routine and fixing our skin concerns. But we have heard it repeatedly; we need to take care of our skin on the surface and the inside through our health.
Supplements and vitamins are a great way to optimize your nutrient intake. This ensures that you take in all the nutrients and vitamins you need, especially those that help with skin, hair, and nails. They can also work great alongside your skincare products so you can achieve those skin goals.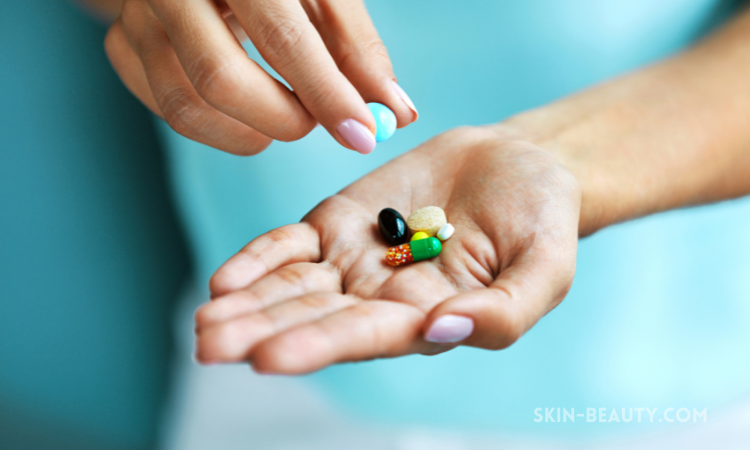 Best Supplements
1. Collagen
By now, most have heard about collagen. It's marketed in supplements, vitamins, eye patches, serums, body wash, etc. It is the most abundant protein in the body and structures our hair, skin, and nails. Unfortunately, as we age and age, collagen production starts to decline, resulting in wrinkles and sagging skin.
Eating foods rich in collagen is one way to provide your body with this protein, but it may not be enough. Supplements like the Collagen Peptides or the Vital Protein Collagen Peptides are great powdered sources.
2. Fish Oil
A great source of omega-3 fatty acids, fish oil is excellent for your health and your skin. Omega-3s can help fight inflammation, something that also applies to the skin.
The Metagenics OmeGenics EPA-DHA 500 is is a superior quality fish oil supplement that helps support cardiovascular health.
3. Bone Broth
This is an excellent source of type II collagen, a main component of cartilage. It helps support gut and joint health as well as healthy skin. The Vital Proteins Beef Bone Broth Collagen and the Bone Broth Protein are great ways to get some added collagen into your diet.
4. Curcumin
The active ingredient in turmeric, curcumin, has been used in various remedies for years. There is documented data proving the health benefits of this ingredient, including supporting a healthy response to stress and inflammation. Turmeric tablets or supplements are a great way to incorporate curcumin into your diet.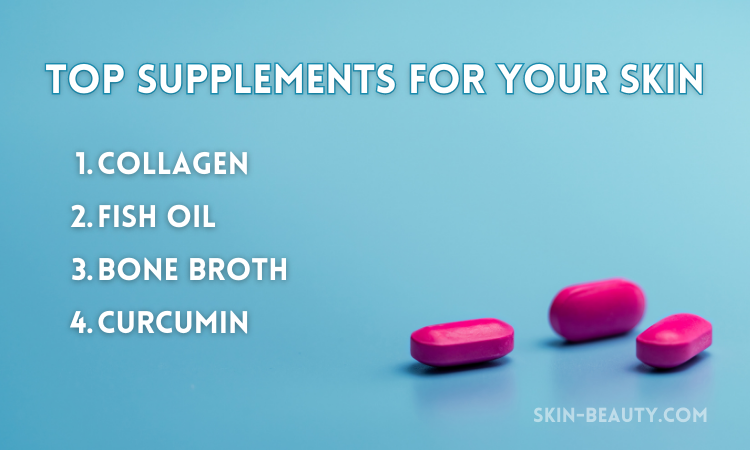 Best Vitamins
Vitamin D
Often reported to support bone health and immune system function, Vitamin D plays an essential role in your health. Unfortunately, many people do not get the needed Vitamin D, so supplements may be a great way to get the necessary amount.
Biotin (B Vitamin)
Biotin is a product often found in many beauty products, such as face creams. In addition, this micronutrient contributes to skin health as it helps produce keratin, an essential building block for hair, skin, and nails.
Biotin deficiencies are not as common amongst those with a balanced diet—for example, eating foods such as eggs, salmon, avocados, and goat cheese.
Vitamin A
Retinol, a form of Vitamin A, is one of the most popular skincare ingredients used for anti-aging. It helps speed up the healing process and aids in the skin's natural moisturization.
Foods rich in Vitamin A are kale, eggs, sweet potato, organ meats, and berries.
Multivitamin
This is a great way to help get more nutrients that support the health and elasticity of your skin.
Vitamin C
Arguably one of the most popular ingredients used in skincare, Vitamin C helps support healthy skin function. There are a variety of Vitamin C vitamins and supplements to choose from, but our favorite is the Vitamin C + Probiotics Capsules.
Vitamin E
A vitamin that promotes antioxidant activity, when it comes to topical skin care products, it is often used as a moisturizing antioxidant. Ancient Nutrition's Vitamin E Capsules feature fermented selenium, ancient superfoods, and Hawthorn berry extract that help support healthy skin and hair.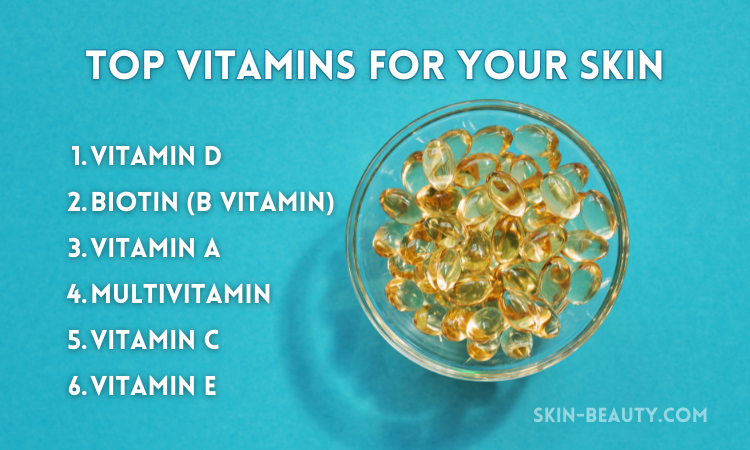 What to look for in your supplements and Vitamins
Not all supplements and vitamins are made equal. Some companies may have higher standards for their ingredients or methods than others. So it comes down to us, the consumer, to choose the best options.
Search the ingredients list to make sure that there aren't any extra ingredients or added fillers. Make sure that any claims made by your supplements or vitamins are reasonable and don't promise to be a quick fix for a problem.
Have We Missed Anything?
We Would Like To Hear From You!
Which Advice Did You Find Valuable Today?
Let us Know Down Below in the Comment, Review Section!
Visit Skin-Beauty.com for more blogs, and beauty products!
Recent Posts
Its properties resemble other commonly used moisturizing ingredients like hyaluronic acid and glycer …

You are born with collagen in your body, but once you reach a certain age, your body stops produc …

Collagen is one of the most popular ingredients for anti-aging. From lotions to eye patches to vi …